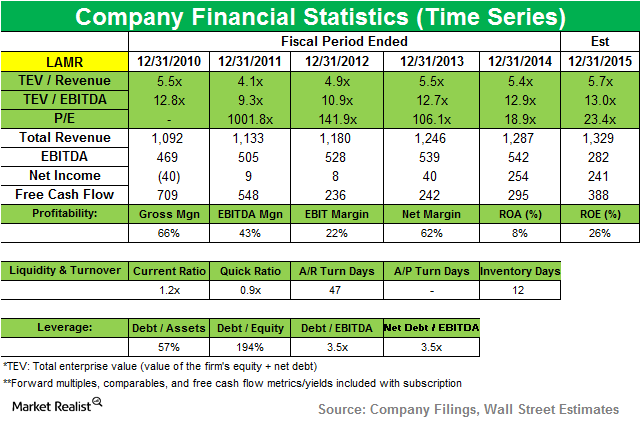 Corvex Adds to Its Stake in Lamar Advertising
Corvex adds to its stake in Lamar Advertising
Corvex Management added to its stake in Lamar Advertising (LAMR). The position accounted for 4.15% of the fund's total portfolio in the fourth quarter. The fund almost doubled its position from 3,923,762 shares in 3Q14 to 6,301,662 shares.
Article continues below advertisement
Lamar finalized REIT conversion
On November 19, 2014, Lamar completed a merger with its wholly owned subsidiary Lamar Advertising REIT Company. The merger was the final step in Lamar's plan to reorganize its businesses. This will help it qualify as an REIT. Lamar received the necessary stockholder approvals, with respect to the merger, at a special stockholder meeting on November 17, 2014.
Corvex's other REIT investments include Crown Castle International (CCI) and American Realty Capital Properties (ARCP). Crown Castle, Lamar Advertising, and American Realty Capital Properties have exposure to 3.25%, 0.55%, and 1.03%, respectively, of the iShares US Real Estate ETF (IYR). OUTFRONT Media (OUT), formerly CBS Outdoor, was spun off of CBS. Last year, it also received approval for conversion to an REIT.
Lamar's 4Q profit boost from REIT conversion
Lamar's 4Q14 net revenue grew 5.1% to $336.7 million—compared to $320.4 million for 4Q13. The net income surged to $207.9 million from $10.2 million for the same period in 2013. Lamar said "The increase in net income reflects a one time income tax benefit of $120.1 million related to the write off of a substantial portion of the Company's deferred tax liabilities as a result of its conversion to a real estate investment trust." AFFO (adjusted funds from operations) grew almost 19% to $117.3 million from $99 million for the same period in 2013.
Overview of Lamar Advertising
Lamar Advertising is a leading outdoor advertising company. It operates three types of outdoor advertising displays—billboards, logo signs, and transit advertising displays. In 2014, it owned and operated around 144,000 billboard advertising displays in 44 states, Canada, and Puerto Rico. In 2014, it generated 73% of billboard advertising net revenue from bulletin rentals and 27% from poster rentals. The company also operated ~132,000 logo sign advertising displays in 23 states and Canada. It had over 41,000 transit advertising displays in 17 states, Canada, and Puerto Rico.
In the next part of this series, we'll review Corvex Management's increased position in NCR.