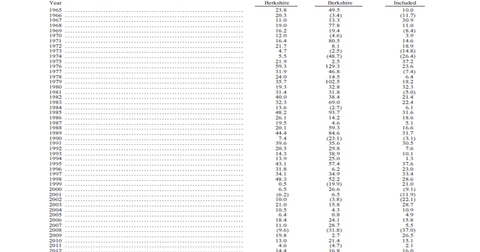 The Buffett Letters: 10 Commandments to Investors
By Saul Perez

Updated
Buffett is a once-in-a-lifetime investor
We all know what a great investor Warren Buffett is. His investing prowess is unmatched. His investments in companies such as IBM (IBM), Coca-Cola (KO), and Wells Fargo & Co. (WFC) are part of investment folklore. He has consistently beat benchmarks such as the S&P 500 and outperformed ETFs that track the S&P 500 such as the iShares Core S&P 500 ETF (IVV).
He's also one of the rare few who regularly share their wisdom with investors. Much of this wisdom may be found in his famous annual letters. These letters are addressed to shareholders of his holding company, Berkshire Hathaway (BRK-B). But, these letters are also available to investors online, and can be downloaded for free.
Article continues below advertisement
Buffet's 2014 annual letter has many firsts
Some of us will have read his annual shareholder letter for 2014. Others may have read a news article about it. This letter includes many firsts.
Berkshire completed fifty years under Buffett's stewardship this year. So, this was his fiftieth annual letter. In it, he summarized the performance record of Berkshire under his leadership. The letter also includes a write-up by Charlie Munger, his co-partner at Berkshire, on the future expectations for Berkshire.
Buffet's cornerstones of investing
Each one of Buffet's letters is packed with words of wisdom for investors. Yet, there are some things he keeps on repeating regularly. What are they? Fret not. You don't have to read all fifty letters to find out. We've done the hard work for you. After carefully going through Buffett's letters, we've picked out the ten most important characteristics of his investing style to share with you. To learn more, keep reading.