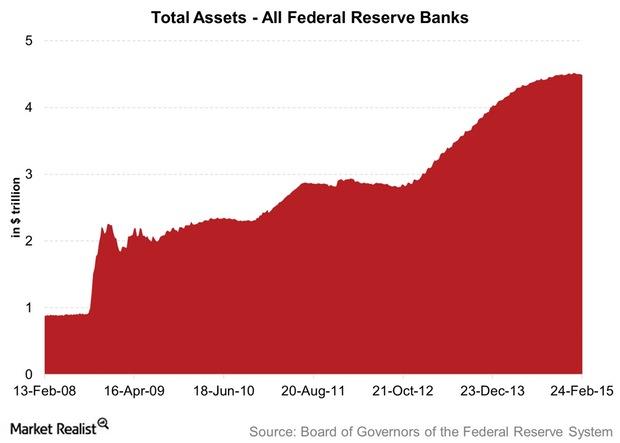 How will the Federal Reserve go about policy normalization?
By David Ashworth

Dec. 4 2020, Updated 10:52 a.m. ET
What is policy normalization?
Monetary policy normalization refers to two aspects: the federal funds rate and the Federal Reserve's balance sheet.
As far as the federal funds rate is concerned, the Fed considers 3.75% as the longer-term normal level. At 0% to 0.25%, the federal funds rate is way off normal. On the other hand, the Federal Reserve's balance sheet has swelled to over $4.5 trillion as a result of three rounds of quantitative easing (or QE) measures. As a comparison, the Fed's balance sheet had stood at around $0.9 billion at the beginning of 2008.
Article continues below advertisement
Primary driver
While testifying before a Congressional panel, Janet Yellen said that a change in the federal funds rate would be the primary method of normalization. The Fed will not actively manage its balance sheet. A rise in the rate would impact banking and financials stocks like JPMorgan Chase (JPM), Bank of America (BAC), Citigroup (C), and Goldman Sachs (GS), which make up nearly 20% of the SPDR Financial Select Sector Fund (XLF).
Yellen informed the congressional committee that "The primary means of raising the federal funds rate will be to increase the rate of interest paid on excess reserves." It will also use an "overnight reverse repurchase agreement facility," among other tools to control the federal funds rate. In an overnight reverse repurchase agreement, the Fed sells a security to eligible entities with a promise to repurchase them on the next business day at a specified price. Once these tools achieve their objective, they will be phased out.
As far as its balance sheet's normalization is concerned, the Fed has stopped purchasing Treasury and mortgage-backed securities post October 2014. However, it is continuing to reinvest principal repayments. The first step to balance sheet normalization would be to stop these reinvestments. Beyond that, there are no stated plans as of now. It would be safe to say that we're still far from that stage.