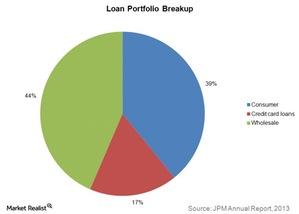 Wholesale Loans Rule J.P. Morgan Loan Portfolio
By Rekha Khandelwal, CFA

Apr. 22 2015, Updated 11:17 a.m. ET
Big and diversified loan portfolio
The size of J.P. Morgan's (JPM) total loan portfolio was $757 billion at the end of 2014. The portfolio is made up of consumer loans, credit card loans, and wholesale loans. Wholesale loans account for 44% of the portfolio, followed by consumer loans that form 39% of the portfolio. Credit card loans make up the remaining 17%.
The chart above gives breaks down the bank's loan portfolio.
Article continues below advertisement
Wholesale and consumer loans
Wholesale loans include commercial and industrial loans, real estate loans, loans to financial institutions and government agencies, and other loans. Commercial and industrial loans account for more than one-third of the wholesale loan portfolio.
Residential real estate loans account for more than 70% of the consumer loan portfolio. These include home equity loans, residential mortgages, and purchased credit impaired loans. Auto, business, student, and other loans make up the rest.
Credit card loans
The firm assesses credit quality trends within the card portfolio using FICO scores. FICO scores assess an individual's creditworthiness based on credit history. Borrowers with a FICO score equal to or greater than 660 account for 85% of J.P. Morgan's credit card loan portfolio. FICO scores range from 300 to 850. The higher the score, the better. Scores above 660 are considered good.
The firm also monitors loans by geographic distribution for insights on the credit quality of the portfolio based on the regional economy.
J.P. Morgan stock forms ~1.2% of the SPDR S&P 500 ETF Trust (SPY).
Consumer loans, including card loans, form the biggest chunk of Citigroup's (C) loan portfolio. Wells Fargo (WFC), on the other hand, is more focused on commercial loans. Bank of America's (BAC) loan portfolio most resembles J.P. Morgan's. For more on Bank of America's loan portfolio, read Why Bank of America's loan portfolio breakup matters.