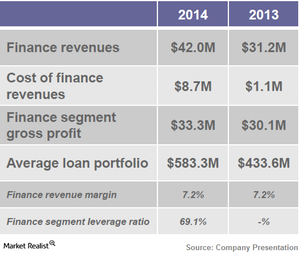 Finance Segment of Sotheby's Sees Major Revenue Growth
By Stuart McKenzie

Mar. 27 2015, Updated 2:05 p.m. ET
Finance segment overview
The Finance segment of Sotheby's (BID) provides financing to certain art dealers and collectors. To secure this financing, Sotheby's uses artwork that is in the company's possession or that it has allowed borrowers to hold. The wholly owned subsidiaries of Sotheby's enable the company to conduct the activities that pertain to the Finance segment.
The Finance segment offers two kinds of secured loans:
consignor advances
general-purpose term loans
Consigned property secures a consignor advance. This type of loan is for a seller who has a contractual obligation to auction the property off in the near term. A consignor advance enables the seller to receive funds subject to consignment for auctions that would be taking place within one year.
Sotheby's establishes mutually beneficial relationships with borrowers through the means of general-purpose term loans. Property that is not going to be sold in the near term secures these loans.
Article continues below advertisement
Addition of separate capital structure
In its 10K filing, Sotheby's noted that the operating cash flows of its Agency segment had funded the lending activities of the Finance segment before 2014. The company said, "In January 2014, in order to reduce the Finance segment's cost of capital and enhance returns, Sotheby's established a separate capital structure for the Finance segment. Under this, client loans are predominantly funded with borrowings drawn from a dedicated revolving credit facility." This new set up "allowed management to debt fund a substantial portion of pre-existing loans and fund further growth of the loan portfolio."
2014 revenue growth
Revenues for the Finance segment rose 35% to $10.8 million during 2014. Growth in the average loan portfolio balance drove this increase. Gross profit for the Finance segment, net of borrowing costs, rose by 10% to $3.1 million.
Sotheby's said the gross profit improvement also "reflects the continued growth of the client loan portfolio, which is a result of a number of factors, including an increase in the demand for art-related financing, the increased ability to fund loans through revolving credit facility borrowings, the relatively low nominal interest rate environment, and the improved global reach of Sotheby's art-financing business."

Like Sotheby's, specialty jeweler Tiffany & Co. (TIF) and fashion retailer Nordstrom (JWN) have cyclical stocks.
Investors who wish to gain exposure to auction house stocks could invest in the Vanguard Total Stock Market ETF (VTI). Sotheby's has an exposure of 0.01% in this ETF. The company also makes up 0.14% of the iShares Russell 2000 ETF (IWM).
In the next part of this series, we will cover the Principal segment of Sotheby's.