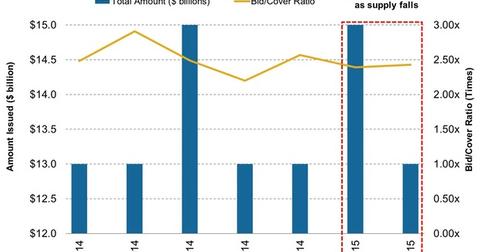 Demand for Ten-Year TIPS Surges as the Fed Backs Off
By David Ashworth

Updated
The use of TIPS
Nominal bond yields rise due to higher inflation expectations. Treasury Inflation-Protected Securities (or TIPS) protect the value of debt securities from eroding due to inflation. A TIPS principal is indexed to the Consumer Price Index (or CPI). The TIPS principal increases with inflation and decreases with deflation.
On maturity, an investor is paid the greater of the adjusted principal or the TIPS original principal amount. The coupon payments on TIPS are applied to the adjusted principal. As a result, the coupon payments on TIPS provide the bondholder with a fixed amount of purchasing power. ETFs that provides exposure to TIPS include the iShares TIP Bond ETF (TIP).
Changes in inflation and inflation expectations affect the returns on fixed income ETFs such as the Vanguard Total Bond Market ETF (BND), the Core Total U.S. Bond Market ETF (AGG), and the ProShares Ultra 7–10 Year Treasury ETF (UST).
Article continues below advertisement
Ten-year TIPS auction on March 19
Market demand rises
Market demand for the securities rose in March compared to the January auction. However, direct bids tanked. Direct bids dived from 10.2% to 1.1% of the total competitive accepted bids. Direct bids include bids from domestic money managers such as State Street (STT) and Invesco (IVZ). Indirect bids include bids from foreign governments. They jumped from 64% in January to 75.7% in March.
Due to higher market demand, primary dealer uptake fell from 25.8% in January to 23.2% in March. A decrease in primary dealer bids implies higher underlying market demand. Primary dealers are a group of 22 authorized broker-dealers. They're required to bid at U.S. Treasury auctions. They include firms such as J.P. Morgan Securities LLC (JPM) and Goldman, Sachs & Co. (GS). Both firms are part of the iShares Core S&P 500 ETF (IVV).
Yield analysis
The high discount rate fell to 0.200%, the lowest since May 2013, from 0.315% reported in January's auction. The discount rate represents the difference between ten-year Treasury yields and the expected inflation rate. With the FOMC (Federal Open Market Committee) remaining accommodative in its March 2015 statement, inflation has space to move higher. An earlier-than-apt rise in the federal funds rate would suppress inflation even more.
In the next article, we'll look at housing starts, an indicator of the housing market that was released last week.