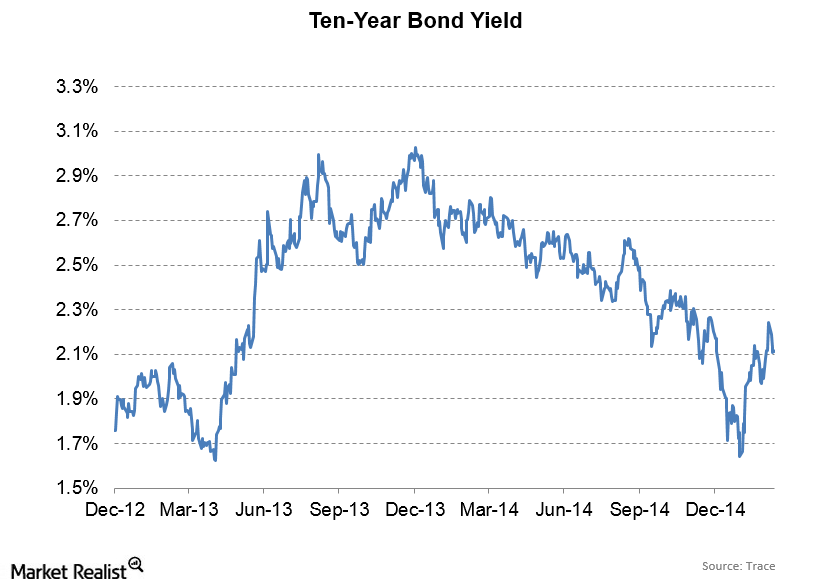 Bonds Rally as the Market Digests the Strong Jobs Report
By Brent Nyitray, CFA, MBA

Mar. 16 2015, Published 9:38 a.m. ET
The ten-year bond yield is the basis for long-term interest rates
The ten-year bond influences everything from mortgage rates to corporate debt. It's now the benchmark for long-term US interest rates. Old-timers might remember when the 30-year bond was the benchmark, but that changed in the 1990s. When investors want to know what's going on in the bond market, they in essence want to know where the ten-year bond is trading.
Note that short-term rates are still important, particularly the London interbank offered rate (or LIBOR), which is the base rate for almost all short-term rates.
Rate information is relevant to mortgage real estate investment trusts (or REITs) like American Capital Agency (AGNC), Annaly Capital (NLY), and Two Harbors (TWO).
Article continues below advertisement
Bonds recoup their post-jobs report losses
The strong payroll number and the lower unemployment rate gave bond bears plenty of ammunition to send bonds lower. The US Treasury rally has been on borrowed time for a while, as bond market rallies in Europe have pulled Treasury yields lower despite a strengthening US economy. Over the prior week, Treasuries had sold off to the tune of 25 basis points.
Last week, bonds digested the jobs report and also some of the other economic data, which was generally bond-bullish. Bonds recouped a good chunk of their previous losses and returned to where they were before the jobs report.
US Treasuries gave up 13 basis points in yield to close out at 2.11%. Overall, we've seen a lot of volatility in the ten-year over the past few months.
Investors interested in trading the mortgage REIT sector via an ETF should look at the iShares Mortgage Real Estate Fund (REM). Investors who are interested in making directional bets on interest rates should look at the iShares 20-year bond fund (TLT).