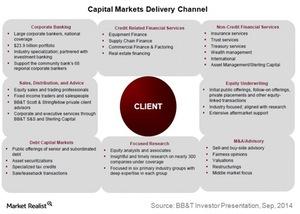 BB&T Focuses on Expanding Corporate Banking Services
Segment offerings
BB&T's (BBT) Financial Services segment provides personal trust administration, estate planning, investment counseling, wealth management, asset management, corporate retirement services, corporate banking, and corporate trust services. Financial Services also offers discount brokerage services, equities, fixed-rate and variable-rate annuities, mutual funds, and governmental and municipal bonds.
The above chart shows the various services that the segment offers. BB&T is focused on expanding the geographic coverage of corporate banking services. It's also adding new industry verticals for lending and investment banking services.
Article continues below advertisement
Regions Financial (RF) and SunTrust Bank (STI) also offer capital markets, investment banking, advisory, corporate banking, and other services. These banks compete directly with BB&T in this market. Investors can gain exposure to regional banks through the SPDR S&P Regional Banking ETF (KRE). BB&T forms ~1.4% of KRE and ~1.3% of the iShares U.S. Financial Services ETF (IYG).
Strong loan growth
Financial Services continues to generate significant loan growth through expanded lending strategies. Corporate Banking's average loan balances increased by 23.3%—compared to 2013. BB&T Wealth's average loan balances increased by 25.6%.
The allocated provision for credit losses increased as a result of growth in the Corporate Banking and BB&T Wealth loan portfolios. Non-interest income increased, primarily due to higher trust, investment advisory, and investment banking income.
The above graph shows the segment's net interest income, non-interest income, and net income. As opposed to other segments, fee-based non-interest income contributes more to the Financial Services segment's income.
Increased expenses
Non-interest expense increased, primarily due to higher personnel expense, operating charge-offs, sub-advisory fees, and occupancy and equipment expense. Internal business initiatives and growth in the segment resulted in an increase in corporate expenses allocated to the segment.
As a result, Financial Services' net income decreased 7.6%—compared to 2013.
Big banks—including Wells Fargo (WFC), JPMorgan Chase (JPM), Bank of America (BAC), and Citigroup (C)—offer the same financial services as BB&T's Financial Services segment. They compete with BB&T for these services. Generally, the biggest corporate clients and deals go to the big banks.