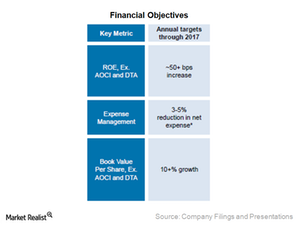 AIG delivers on its financial objectives
By Sean Millard

Updated
Return on equity
AIG's (AIG) financial objectives focus on profitability improvement, expense management, and balance sheet growth, aiming to achieve a sustainable return on equity (or ROE) that exceeds its cost of capital. The company targets an annual improvement of 50 basis points in ROE through 2017, with a long-term objective of an ROE exceeding 10+ ROE.
AIG's full year 2014 return on equity was 8.4%, excluding certain items like other comprehensive income and deferred tax assets while calculating equity. Headline return on equity for AIG was lower than its peers like ACE (ACE), Allstate (ALL), and Chubb (CB).
Adjusting for deviations from expected investment returns and losses due to catastrophes, the company reported a baseline return on equity of 7.4% for the full year 2014. The company focuses on expense and capital management to achieve its return on equity targets.
Article continues below advertisement
Expense management
AIG is planning to reduce 3–5% of general operating expenses annually through 2017. The company intends to bring about the change in cost structure through implementation of technology, redesigning business processes, and developing shared service centers, as well as by simplifying the organizational structure. AIG aims to fund new initiatives through the savings achieved in the general operating expenses.
Capital management
AIG also aims to grow book value annually through 2017, at a rate of over 10% per share, through improved profitability and capital and risk management actions. We will look at AIG's expense and capital management in the recent financial periods in details in later sections.
Investors can invest in insurance companies like AIG by investing in financial sector ETFs like the Financial Select Sector SPDR ETF (XLF).