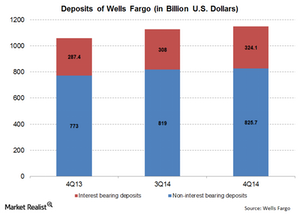 Wells Fargo remains number one in low-cost deposits
Some deposits come at no cost
Accepting deposits is one of the key activities for a bank. There are four main types of deposits.
time deposits
money market deposits
checking and savings account deposits
noninterest bearing deposits
As the name suggests, noninterest bearing deposits carry no interest. This means that the bank pays the depositor no interest. These deposits are the most preferred for a bank. Savings and checking account deposits and money market deposits also carry lower costs for a bank. So growth in these three types of deposits is considered good.
Article continues below advertisement
Wells Fargo records a healthy deposit growth in 4Q14
Total deposits at Wells Fargo (WFC) stood at $1.2 trillion at the end of 4Q14. Deposits were up $89.1 billion. This was a growth of 8.2% compared to 4Q13.
Wells Fargo continued to outpace the sector growth rate of deposits. The sector-wide growth of deposits was in the range of 3%–4%. JPMorgan (JPM) led the deposit growth rate charts. JPMorgan is followed by Bank of America (BAC), Wells Fargo, and Citibank (C). All these banks are part of the Financial Select Sector SPDR (XLF).
Wells Fargo is a leader in low-cost deposits
Wells Fargo (WFC) continues to remain a sector leader in raising low-cost deposits. Noninterest bearing deposits at Wells Fargo stood at $825.7 billion at the end of 4Q13. Wells Fargo grew its noninterest deposits by nearly 7.0% compared to 4Q14.
The average cost of deposits stood at 0.09%. This was an improvement of 2 basis points compared to 4Q13. This is the lowest cost of deposits among the major banks in the sector.
This further improvement on an already impressive cost of deposits strengthens Wells Fargo's position even more. These low-cost deposits help the bank price its loans more competitively.