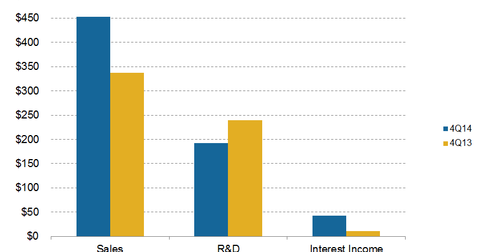 Millennium Management exits stake in Forest Laboratories
By Adam Rogers

Updated
Millennium Management position summary
Millennium Management's new positions in 3Q14 include St. Jude Medical (STJ) and Kimberly-Clark (KMB). The fund sold positions in Forest Laboratories (FRX) and Procter & Gamble (PG). Millennium increased its position in Kinder Morgan (KMI), Actavis plc (ACT), and American Express (AXP). Finally, it decreased its stake in Northeast Utilities (NU) and CVS Caremark (CVS).
Article continues below advertisement
Overview of Forest Laboratories
Forest Laboratories (FRX) is an American pharmaceutical company founded in 1954 and headquartered in New York City. The company's research and development, or R&D, spending has grown rapidly in recent years and, as of 2007, approached almost $1 billion a year. This put it on the list of the top 100 global corporations in terms of R&D spending.
Forest Laboratories, or FRX, is also known for licensing European pharmaceuticals for sale in the United States and has offices in Dublin, Kent, and Paris.
Actavis acquires for $28 billion
In July 2014, Actavis completed the acquisition of Forest Laboratories, creating one of the world's fastest-growing specialty pharmaceutical companies. Annual revenues of more than $15 billion are anticipated for 2015.
Actavis expects the transaction to generate double-digit growth in 2015 and 2016. This includes approximately $1 billion in operating and tax synergies to be realized within three years of the deal's close.
Article continues below advertisement
The combination of Actavis and FRX creates a new breed of specialty pharmaceutical company. With size and scale, a balanced offering of strong brands and generics, the combined entity will focus on strategic, lower-risk drug development. Its flexible, scalable business model will permits it to adapt quickly to ever-changing industry dynamics and drive sustainable, long-term organic growth.
Forest Laboratories to downsize workforce
In October 2014, FRX announced that the firm would lay off over 90 employees at its Long Island pharmaceutical packaging site. Laying off a set of workers that provide overlapping services is common when one company is acquired by another.
Actavis has stated that it will be relocating a majority of the FRX operations to New Jersey, where it already has manufacturing, R&D, and administrative facilities.
The next article in the series will explore Millennium Management's new position in Procter & Gamble (PG).