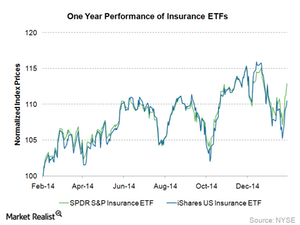 Why should you invest in insurance ETFs?
By Sean Millard

Nov. 19 2019, Updated 6:09 p.m. ET
Sector-specific ETFs
Equity exchange-traded funds generally comprise a basket of stocks, providing benefits of diversification. This applies to an index fund and trading common stocks. Sector-specific ETFs help investors get exposure to a whole sector through one instrument, which reduces the effort of individually purchasing stocks in the sector and determining their portfolio allocation.
Article continues below advertisement
Insurance ETFs
ETFs like the SPDR S&P Insurance ETF (KIE) or the iShares US Insurance ETF (IAK) are only invested in insurance companies. While the SPDR S&P Insurance ETF (KIE) has around 2% invested in each of the 49 insurers in its portfolio, the iShares US Insurance ETF (IAK) has significant allocations to key insurers like AIG (AIG), MetLife (MET), and ACE (ACE). The above chart shows the performance of these ETFs.
Such ETFs are poised to gain from growth in the insurance industry. As the interest rate scenario improves, insurers should see a positive impact on earnings due to higher investment returns, as well as lower insurance liabilities, as we discussed earlier. Also, with growth coming from the emerging markets and insurers taking conscious efforts to improve their operating efficiencies, the industry is expected to see increased earnings in the future.
Financial sector ETFs
Exposure to insurance companies can also be obtained through financial sector–based ETFs such as the Financial Select Sector SPDR Fund (XLF) or the iShares US Financials ETF (IYF). For example, AIG (AIG) has over 2% allocation in the Financial Select Sector SPDR Fund (XLF), while MetLife (MET) has close to 2% allocation. Such ETFs not only help investors gain exposure to the insurance sector, but also to other companies in the financial sector.
The insurance sector is also well represented in the SPDR S&P 500 ETF (SPY), as well as other sector-agnostic ETFs.