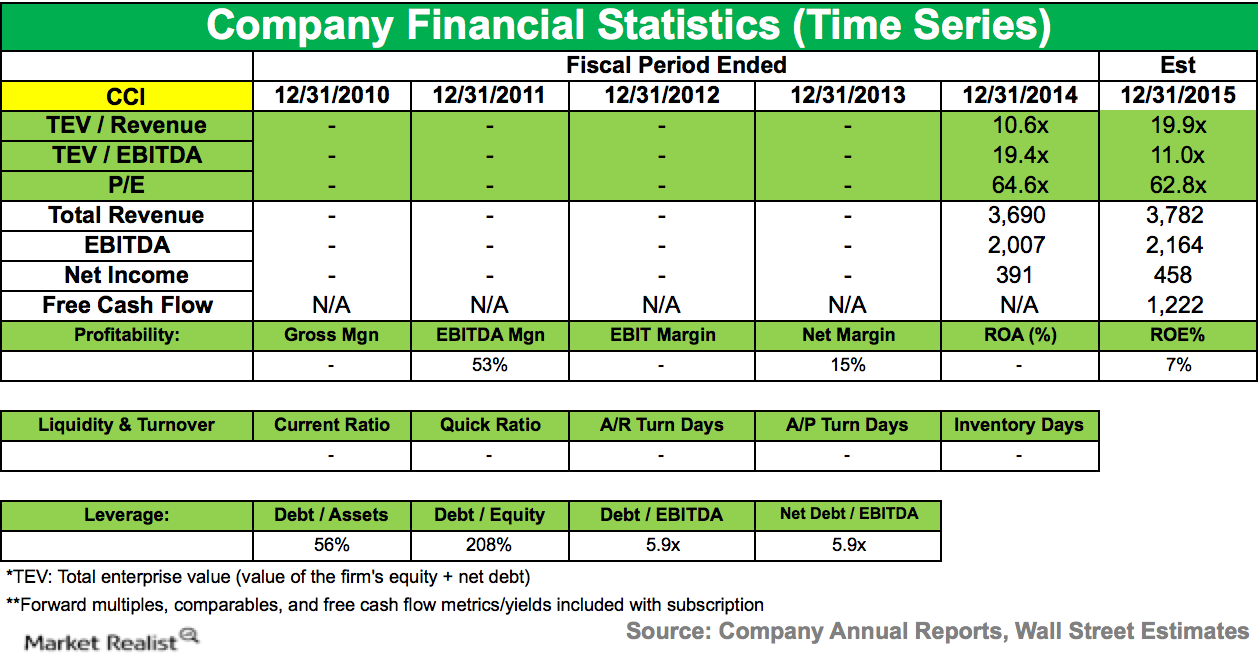 Glenview Capital lowers position in Crown Castle International
By Diana Key

Nov. 20 2020, Updated 2:17 p.m. ET
Glenview Capital and Crown Castle International
In 4Q14, Glenview Capital lowered its position in Crown Castle International Corp. (CCI). The fund holds 859,771 shares of CCI, which accounts for 0.34% of the fund's total 4Q14 portfolio, down from 3.40% of the fund's 3Q14 portfolio with 8,076,490 shares.
Article continues below advertisement
About Crown Castle International
Crown Castle International Corp. (CCI) owns, operates, and leases shared wireless infrastructure. It includes towers and other structures such as rooftops, distributed antenna systems (or DAS), a type of small cell network, and interests in land under third-party towers in various forms.
CCI owns and manages ~40,000 towers in the United States and 1,800 towers in Australia. Its four largest customers, AT&T Inc. (T), Sprint Corporation (S), T-Mobile US (TMUS), and Verizon Wireless, accounted for 88% of CCI's 2014 consolidated site rental revenues. Site rental revenues accounted for 81% of the company's net revenues.
CCI as REIT
At the start of 2014, CCI started to operate as an REIT. In December 2014, CCI completed an REIT merger with its former parent "to facilitate its continued compliance with the rules governing real estate investment trusts."
Article continues below advertisement
Corvex Management's activist push to improve shareholder returns at Crown Castle
Corvex Management, which holds ~12.6 million shares of CCI, likes the combination of an REIT and a telecommunications business at CCI. In its October letter to CCI, the fund asked the company to boost returns to shareholders before looking for more acquisitions, including Verizon's wireless network of towers. Corvex said that CCI could do it by increasing its dividend payout ratio or improving its leverage ratio and buying back more stock.
Shareholder returns
As an REIT, CCI initiated dividends. Subsequently in the fourth quarter, it raised the dividend to $0.82 per share. As of January 21, it has a dividend yield of 4%. The company expects to deliver returns of 10% to 11% with an organic growth rate of 6% to 7%. On February 17, Crown Castle declared a quarterly cash dividend of $0.82 per share.
Article continues below advertisement
Crown Castle plans to sell its Australian subsidiary
CCI owns 77.6% of Cencall Communications Corp (CCAL), one of the largest independent tower operators in Australia. CCI is exploring available options in order to ensure the best results for its shareholders in the long term.
CCAL is expected to contribute 4% to 5% to the midpoint of CCI's full year 2015 outlook for adjusted EBITDA (earnings before interest, taxes, depreciation, and amortization) of $2.15 billion.
Crown Castle beats revenue forecast
Crown Castle's 2014 results include results from the integration of 9,700 AT&T towers.
Revenue was up 21% to $968 million. Site rental revenue grew 17% to $761 million. It was driven by 7% growth from new leasing activity, 4% growth from cash escalations and tenant lease contracts, and 4% from nonrenewal. Net income was $137 million or $0.41 per share compared to net loss of $35 million or $0.11 per share in 4Q13.
For 2014, revenue was up 22% to $3.69 billion. Site rental revenue grew 20% to $3.01 billion. Net income was $347 million or $1.04 per share compared to $79 million or $0.26 per share in 2013. As of December 31, 2014, net debt to 4Q14 EBITDA ratio was 5.4x.
The company expects a positive 2015 with a number of acquisitions and strong results from 2014. You can gain exposure to Crown Castle International Corp. (CCI) by investing in the iShares Dow Jones U.S. Real Estate Fund (IYR). CCI accounts for 3.48% of IYR.
In the next part of this series, we'll look at Glenview Capital's position change in HCA Holdings Inc. (HCA).