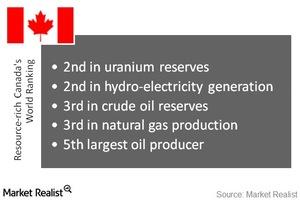 Canada: 5th-largest oil producer, exposed to concentration risk
By Surbhi Jain

Aug. 18 2020, Updated 6:15 a.m. ET
Canada enjoys a resource-rich economy
Canada is rich in natural resources, particularly uranium, petroleum, natural gas, iron ore, nickel, copper, zinc, gold, lead, silver, timber, fish, coal, and hydropower. It's one of the few developed nations that are net exporters of energy. Only Russia, China, the United States, and Saudi Arabia produce more energy than Canada.
It's the largest foreign supplier of energy to the US in terms of oil, gas, uranium, and electric power. Canada also exports significant amounts of uranium and coal to Asia, Europe, and Latin America.
Article continues below advertisement
World's fifth-largest oil producer
According to the U.S. Energy Information Administration, or EIA, Canada is the world's fifth-largest oil producer. It produces about 6% of global energy supplies, and virtually all of its crude oil exports are directed at US refineries. The petroleum sector in Canada is rapidly expanding. Alberta's oil sands have significantly boosted Canada's proven oil reserves. Canada now ranks third in the world in proven oil reserves behind Saudi Arabia and Venezuela.
Canada is the only OECD (Organization for Economic Co-operation and Development) country with growing oil production, which means more jobs and investment. Oil and gas currently provide jobs for 500,000 Canadians, and that number is expected to grow.
Strength in Canada's financial system
Canadian banks were some of the strongest to emerge from the 2008–2009 financial crisis. A large portion of the banking sector in Canada is still attuned to its traditional lending practices and strong capitalization. The National Bank of Canada, Royal Bank of Canada (RY), Toronto Dominion Bank (TD), Bank of Montreal (BMO), Bank of Nova Scotia (BNS), and Canadian Imperial Bank of Commerce (CM), are popularly known as the "Big Six Banks" in Canada. The iShares MSCI Canada ETF (EWC) is invested in RY, TD, BMO, and BNS, among others.
However, concentration of the Canadian market in the financial sector predominantly, along with energy and materials, has exposed the economy to concentration risk. More than 70% of the TSX Composite Index is made up of these three sectors, with financials commanding five out of the top ten companies in the index by market capitalization.
We'll look into this concentration risk in the next part of this series.