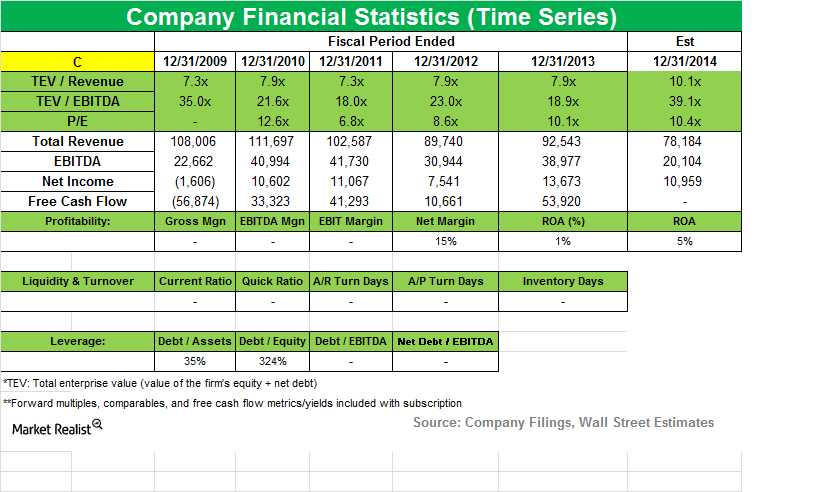 Blue Ridge Capital exits stake in Citigroup
By Adam Rogers

Dec. 4 2020, Updated 10:53 a.m. ET
Blue Ridge Capital and Citigroup
Blue Ridge capital exited its holdings in Citigroup (C), as disclosed in the 13F filings of the hedge fund. The fund sold 1,810,000 shares, which accounted for 0.89% of its total 2Q14 portfolio.
Article continues below advertisement
Overview of Citigroup
Citigroup is an American multinational banking and financial services corporation headquartered in New York City. Citigroup was formed from one of the world's largest mergers by combining the banking giant Citicorp and financial conglomerate Travelers Group in October 1998. Its largest shareholders include funds from the Middle East and Singapore.
In 2007, Citigroup was one of the primary dealers in US Treasury securities. Citigroup had the world's largest financial services network, spanning 140 countries with approximately 16,000 offices worldwide. Citigroup holds more than 200 million customer accounts in more than 140 countries. Its services include consumer banking and credit, corporate and investment banking, securities brokerage, transaction services, and wealth management.
Citigroup adjusts 3Q results on increase in legal accruals
Citigroup posted a $3.4 billion net income, up by 8% with revenues of $19.6 billion, and the net interest margin increased to 2.91% for 3Q14. It later adjusted downward its third quarter 2014 financial results from those reported on October 14, 2014, due to a $600 million increase in legal accruals.
The company noted that the "increase resulted from rapidly evolving regulatory inquiries and investigations, including very recent communications with certain regulatory agencies related to previously disclosed matters." The financial impact lowered Citi's 3Q14 net income from $3.4 billion to $2.8 billion.
Article continues below advertisement
Citigroup's Mexico unit fined
Banamex, a Citigroup subsidiary, was fined $2.2 million due to inadequate controls. The company violated rules set by the national banking regulator, and the unit in Banamex made fake loans to Oceanografia. Moreover, these loans were secured on the premise that the state-run firm Petroleos Mexicanos would repay the bank for work performed by the oil services firm. The fraudulent loans cost the bank in excess of $500 million.
Apart from this, Citigroup announced that its bonus pool for its traders would remain unchanged from the 2013 level. This may be in response to the subdued trading performance over the past nine months, as well as the disappointing outlook for 4Q14. Nonetheless, a continued focus of banks on expansion plans to boost revenues from alternative sources remained a major positive.
Blue Ridge's notable positions traded in 3Q14
Blue Ridge Capital added a new position with Alibaba Group Holding (BABA) and increased its position in Yandex (YNDX), LinkedIn (LNKD), and SiriusXM. Its top sell was Citigroup (C). Top decreased positions were in American International Group (AIG), Walgreen (WAG), and Cheniere Energy (LNG).
In the series' next article, we will focus on Blue Ridge Capital's position in Walgreen.