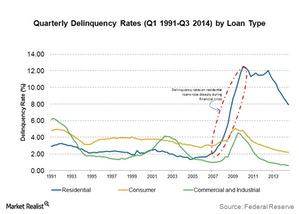 Why Bank of America's loan portfolio breakup matters
By Rekha Khandelwal, CFA

Nov. 20 2019, Updated 2:59 p.m. ET
All loans are not the same
Whenever a bank lends money, it runs the risk of not getting it back. The repayment might be delayed or not paid at all. Such risk is called credit risk. Various factors affect the credit risk associated with various types of loans.
The loans provided by banks can be classified broadly into these three categories: residential mortgage loans, consumer loans, and commercial and industrial loans.
Consumer loans include credit cards, auto loans, student loans, and other consumer loans. Commercial and industrial loans include commercial real estate loans, lease financing loans, loans to financial institutions, and other commercial loans.
Article continues below advertisement
The above chart shows the delinquency rates by quarter on loans of the 100 largest banks in the United States from 1991 to 2014. The consumer loan portfolio is the most stable with the least variation in delinquency rates. Delinquency rates for commercial loans saw greater volatility compared to consumer loans. The residential loan portfolio historically has the lowest delinquency rates but experienced a steep rise after the financial crisis in 2008.
Slower economic growth and labor market conditions increase the risk of default on consumer loans. The level of home prices additionally impacts repayments on residential loans. Similarly, commercial real estate prices significantly influence the commercial real estate loan portfolio performance.
The industry and geography-specific factors of the borrowers might also impact commercial portfolio performance. If a particular industry is performing poorly, the number of defaults on loans to borrowers from that industry will increase.
Diverse loan portfolio
Bank of America (BAC) has the largest loan portfolio compared to the other three largest banks. Its loan portfolio most closely matches JPMorgan Chase's (JPM). The portfolios of these two banks are more evenly distributed across the three broad loan categories. This is beneficial for the banks since the negative trend in a single macroeconomic factor will not greatly affect the overall portfolio performance.
As shown in the above graph, Wells Fargo (WFC) has a relatively higher focus on residential mortgages and commercial loans compared to consumer loans. Consumer loans formed just 15% of Wells Fargo's loan portfolio at the end of 2013. On the other hand, consumer loans form the largest chunk of Citigroup's (C) loan portfolio. Most of the other banks in the Financial Select Sector SPDR ETF (XLF) have much smaller loan portfolios.
In the next part of this series, we'll take a closer look at Bank of America's consumer loan portfolio.