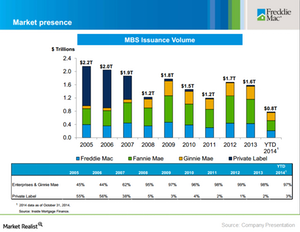 Pershing Square adds to positions in Freddie Mac and Fannie Mae
By Samantha Nielson

Nov. 21 2019, Updated 2:54 p.m. ET
Pershing Square's positions
Pershing Square Management added a new position in Zoetis Inc. (ZTS) and raised its stake in Canadian Pacific Railway (CP) during the third quarter of 2014. The fund said in a letter that its positions in Freddie Mac (FMCC), Fannie Mae (FNMA), Howard Hughes Corporation (HHC), and Platform Specialty Products Corporation (PAH) saw negative returns during the third quarter.
The fund said it added more shares in mortgage financiers Freddie Mac (FMCC) and Fannie Mae (FNMA) during the drop in stock prices in October.

Article continues below advertisement
Judge dismisses hedge funds lawsuit
Shares of Fannie Mae and Freddie Mac, the fund's two government-sponsored enterprises, fell at the beginning of October after a judge threw out a lawsuit that Fairholme Capital and other funds filed against the U.S. government. This drop impacted funds including Pershing Square Capital Management, Fairholme Capital, Perry Capital, Paulson & Co., and Owl Creek Asset Management who have positions in Freddie Mac and Fannie Mae.
The Treasury had placed Fannie Mae and Freddie Mac under conservatorship in an emergency bailout in September 2008. According to a 2012 amendment, the U.S. Treasury Department was to receive all the profits the mortgage giants earned instead of a 10% annual dividend payment to investors.
Pershing Square noted in its letter that "on September 30th, the U.S. District Court dismissed several lawsuits that sought to enjoin the net worth sweep, the arrangement whereby Treasury unilaterally amended the 10% dividend rate on its senior preferred stock to a variable dividend equal to 100% of Fannie and Freddie's future earnings and existing net worth." It said it believes "the U.S. District Court ruling will ultimately be overturned on appeal, and similar lawsuits in other jurisdictions will yield a more favorable outcome."
Article continues below advertisement
Pershing Square adds shares in mortgage financiers
Pershing Square Management said that the adverse court ruling "resulted in a large decline in Fannie and Freddie's respective share prices, which was as an opportunity to purchase additional shares in both companies."
Reports in November noted that although the common shares of Fannie Mae and Freddie Mac have bounced back and pared the initial losses, the preferred shares have only seen a modest recovery.
Pershing Square's combined investment accounts for about 3% of its capital
Pershing Square Management said that it has "voluntarily withdrawn its case in the U.S. District Court." It stated, "By stripping Fannie and Freddie of the earnings that they could otherwise use to build capital, the Treasury is subjecting the U.S. taxpayer to grave risk during the next economic downturn. We remain convinced that a reformed Fannie and Freddie is the only credible path to preserving widespread access to the 30-year, prepayable, fixed-rate mortgage at a reasonable cost. It is therefore essential that Fannie and Freddie build a sufficient level of capital through the retention of their earnings."
The fund added that it is "confident in the prospects for Fannie and Freddie and believe our investment in their common shares will ultimately be worth a large multiple of current prices." However, it expects "the litigation to continue unless the Administration, Treasury, Congress and other interested parties forge a consensual resolution." It added that its "combined investment in the two companies represents about 3% of its capital at current market values."