Mortgage applications increased 7.3% amid a bond market sell-off
The Mortgage Bankers Association, or MBA, Applications Index rose 7.3% after falling 4.3% the week before. Mortgage applications are slowly rebounding after hitting lows not seen since early 2001. That said, the rally in bonds is finally starting to benefit originators.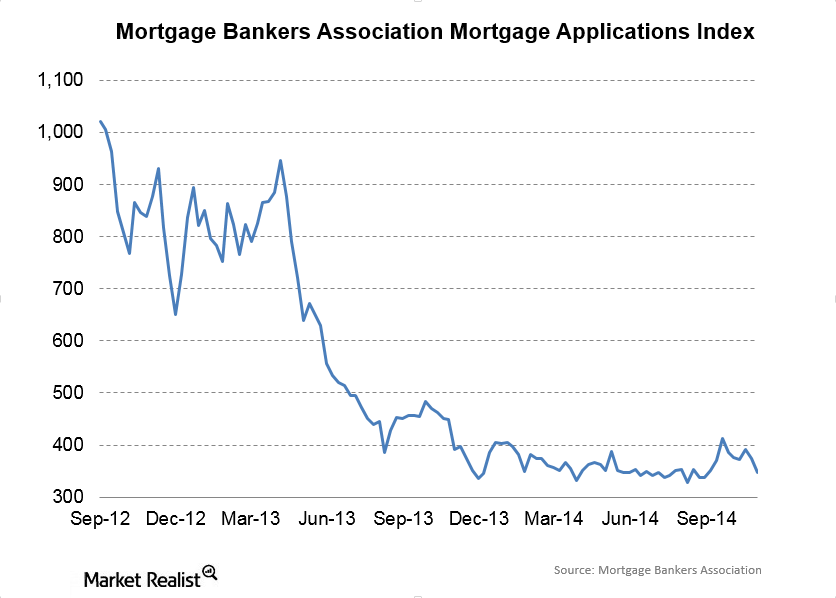 Last year's increase in interest rates—the taper tantrum—hurt earnings for originators. Virtually every originator and virtually every bank that has a large origination business noted decreased earnings in this sector. The easy money from the 2012 refinance wave has been made. Now, originators must focus on the purchase business, which is a more difficult area.
Article continues below advertisement
Federal government tries to make mortgages affordable
The mortgage market is undergoing a massive transformation as the private-label mortgage market returns. US Republican Senator for Tennessee, Bob Corker, and Democrat Senator for Virginia, Mark Warner, recently introduced a bill to end GSEs (government-sponsored enterprises) and put the government in a re-insurance role.
Federal Finance Housing Agency Chairman Mel Watt has tried to make mortgages more affordable by suspending the planned rate increases that Fannie Mae and Freddie Mac issued. Since the bubble burst, mortgage origination has been almost exclusively government-driven. The big buyers of new origination have been the agency REITs such as Annaly Capital Management, Inc. (NLY) and American Capital Agency Corp. (AGNC). The US government bears 50% of the credit risk of the entire US mortgage market. Originators typically don't hold their mortgages. They either sell them to the big banks or securitize them.
The impact of rising rates
Since the securitization market died, originators have had no outlet for non-agency mortgages. Redwood Trust, Inc. (RWT) has been the only issuer of private-label mortgage-backed securities—securities backed by mortgages that aren't government-guaranteed—and it has focused exclusively on high-quality jumbo loans. At the beginning of the year, we saw a wave of private-label deals and then a slowdown as rates began to increase.
We're starting to see more deals again as the market has adjusted to the new interest rate regimen. The vast majority of deals are extremely high-quality loans with significant over-collateralization, so they look nothing like the private-label deals done at the end of the bubble.