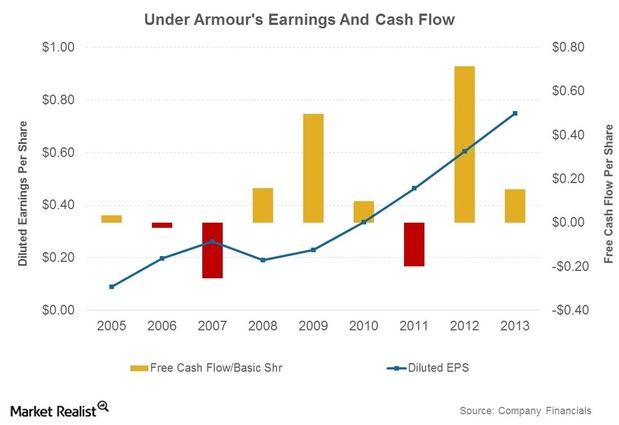 Under Armour Shareholders Have Yet To See Dividends
By Phalguni Soni

Dec. 17 2014, Updated 8:00 a.m. ET
Analyzing Under Armour's returns to shareholders
As noted in Part 14 of this series, Under Armour, Inc. (UA) is a high-growth company. In 3Q14, its apparel business experienced 20 straight quarters of 20% plus growth in revenues, year-over-year. The company's footwear business is making great strides, growing at above 30% in all three quarters of this year.
In Parts 9 to 12 of this series, we also touched on the key growth opportunities available to United Armour, or UA, and how it's planning to expand, both in North America and in foreign countries.
Article continues below advertisement
Markets have given the thumbs-up to the company. As of December 4, 2014, UA was trading at a forward price-to-earnings multiple (or PE) of ~59x. It's priced way above its rivals Adidas AG (ADDYY), Columbia Sportswear Company (COLM), Lululemon Athletica Inc. (LULU), and NIKE, Inc. (NKE), whose PEs are estimated to be 17.3x, 21.3x, 23.3x, and 25.6x, respectively.
Impact on shareholder returns
While growth in earnings per share (or EPS) has been strong, shareholders have seen nil returns in terms of dividends. The company has funded the investments required to further grow the company mostly through cash flows generated by its operations. Despite strong growth in revenues, free cash flow has been negative in certain years.
UA doesn't expect to pay dividends in the foreseeable future. Companies usually like to retain cash when they believe there are more compelling opportunities to reinvest surplus cash flow in the business itself. Dividend payout ratios are usually zero or smaller for these companies. In such cases, investors earn returns through stock price appreciation in the short term.
Dividend payouts and returns to shareholders
Despite the fact that both revenues and EPS have grown at ~30%-rates between 2005 and 2013—an extended period—UA management's decision to withhold dividends from shareholders, and finance growth instead, may be justified. We'll continue the discussion in the next part of this series.