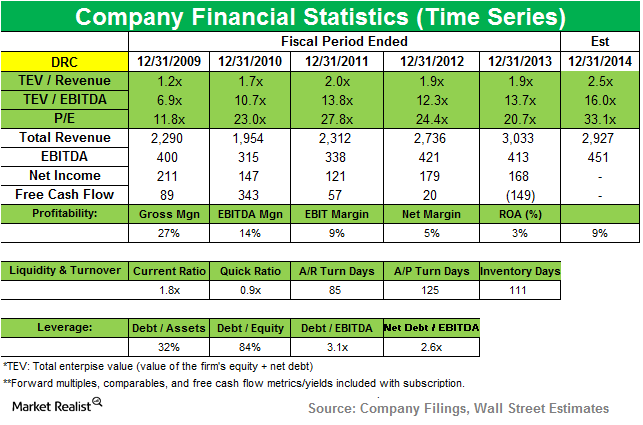 ValueAct Capital lowers stake in Dresser-Rand before merger deal
By Samantha Nielson

Nov. 21 2019, Updated 2:40 p.m. ET
ValueAct Capital lowers position in Dresser-Rand
According to 13D amendments since July, activist hedge fund ValueAct Capital amended its positions in Dresser-Rand Group (DRC), CBRE Group Inc. (CBG), Rockwell Collins Inc. (COL), Valeant Pharmaceuticals (VRX), and Motorola Solutions Inc. (MSI).
ValueAct Capital lowered its position in DRC. An amended 13D filing in July noted that the fund owns 2,004,462 shares. This is down from 4,358,408 shares according to the fund's 13F filing for the second quarter that ended in June. The 13D filing said the fund owns a stake of 2.6% in Dresser-Rand.
Earlier, the fund disclosed an activist stake in Dresser-Rand at the end of February. The fund said it owns 6.6% of DRC with 5,008,408 shares. The filing said the stake was acquired for investment purposes.
Overview of Dresser-Rand
Article continues below advertisement
Dresser-Rand Group is among the largest global suppliers of custom-engineered rotating equipment solutions for long-life, critical applications in the oil, gas, chemical, petrochemical, process, power generation, military, and other industries worldwide. Its equipment and service solutions are also used in energy infrastructure—including oil and gas, environmental solutions, and power generation.
In 2013, ~98% of Dresser-Rand's revenues were generated from energy infrastructure—oil, gas, and environmental solutions. Also, 50% of the company's total combined revenues were generated by its new units segment. 50% of the revenue was generated by its aftermarket parts and services segment.
It has two reportable segments. The segments are based on the engineering and production processes. They're also based on the products and services provided by each segment:
New units – are mainly highly engineered solutions to new requests from clients. The segment includes engineering, manufacturing, project management, packaging, testing, sales, and administrative support.
Aftermarket parts and services – consist of support solutions for the existing population of installed equipment and the operation and maintenance of several types of energy plants. The segment includes engineering, manufacturing, project management, installation, commissioning, startup and other field services, repairs, overhauls, refurbishment, sales, and administrative support.
Dresser-Rand announces merger with Siemens
In September, Dresser-Rand announced that it entered into a definitive merger agreement with German industrial conglomerate Siemens. The transaction was valued at ~$7.6 billion, including the assumption of debt. The price of $83 per share represents a premium of 37.4% over Dresser-Rand's closing share price of $60.42 on July 16.
A release on the deal also said that additional per share cash consideration of $0.55 will be applied on the first day of each month starting March 1, 2015, until the closing occurs.
The global supplier of rotating equipment and aftermarket parts and services said the merger with Siemens "will create a world-class provider for the growing oil and gas markets." The release also said that Siemens intends to operate Dresser-Rand as the company's oil and gas business.
It will retain the Dresser-Rand brand name and its executive leadership team. Siemens will also maintain a significant presence in Houston. It will be the oil and gas business' headquarters.
Siemens expects 150 million euros in annual synergies by 2019 
Siemens said that Dresser-Rand's product portfolio completes Siemens' offerings with compressors and turbines. Applications covered are high-pressure field injection and oil recovery, gas liquefaction, gas transmission, and refinery processes.
Also, Dresser-Rand offers more technologies for distributed power generation like reciprocating engines as drives for compressors and power generation and micro liquefied natural gas (or LNG) solutions. This complements Siemens' offerings strengths in turbo compressors, downstream and industrial applications, and in larger-sized steam turbines.
As a result of the transaction, Siemens plans to realize more than 150 million euros in annual synergies by 2019.
Earlier this year, Siemens acquired Rolls-Royce Holdings' energy business. The business also makes gas turbines and compressors. Siemens acquired the business for $1.3 billion. It said its aim is to become the "leading rotating equipment and process system integrator for the oil and gas industry."
Revenue up 7.9% for 3Q14
Dresser-Rand said its revenues for the three months ending September 30, 2014, were $683.8 million—up 7.9% from $633.9 million in the same period last year.
The next part of this series will highlight amendments to ValueAct's stake in CBRE Group.