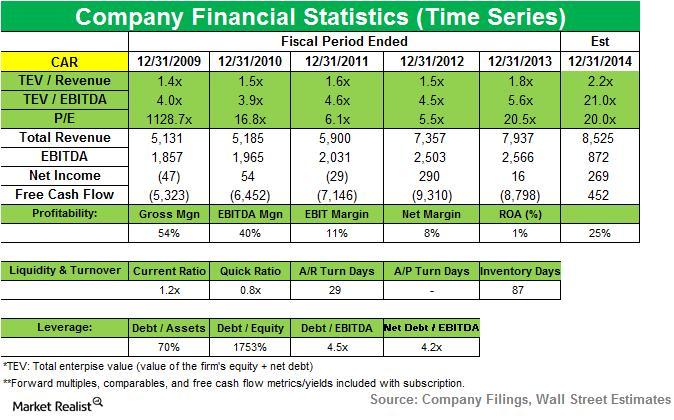 Avis stock accounts for 5.84% of Marcato Capital portfolio
Marcato Capital and Avis Budget Group
Marcato Capital's third-quarter 13F filing revealed a new position in Bank of New York Mellon Corp (BK). It raised its stakes in Avis Budget Group (CAR), Lear Corporation (LEA), and Sotheby's (BID). The only position sold during 3Q14 was a small stake in Brookfield Residential (BRP). In October, the fund made a 13D filing on NCR Corporation (NCR).
Marcato Capital added to its position in Avis Budget Group (CAR) . The stock accounted for 5.84% of the fund's portfolio for the quarter ending in September.
Article continues below advertisement
Overview of Avis Budget Group
Avis Budget Group (CAR) is a leading global provider of vehicle rental services through its Avis and Budget brands, which have more than 10,000 rental locations in approximately 175 countries around the world, and through its Zipcar brand, the world's leading car-sharing network with more than 900,000 members. Avis Budget Group operates most of its car rental offices in North America, Europe, and Australia directly. In other parts of the world, the company operates primarily through licensees. Avis Budget Group, headquartered in Parsippany, New Jersey, has approximately 29,000 employees.
Revenue rose driven by higher pricing and high volumes
In Q314, Avis Budget Group's revenue increased 6% compared to the same quarter a year ago, primarily due to a 6% increase in rental days and increased pricing in North America. Third-quarter adjusted earnings before interest, tax, depreciation, and amortization (or EBITDA) increased 9%, to $417 million, primarily due to higher rental volumes and increased year-over-year pricing in North America, partially offset by higher fleet costs.
Article continues below advertisement
During the earning call, the company's chairman said, "Our record third quarter results were driven by a continuation of the strong volume and pricing trends we experienced in North America in the first half of the year, we delivered record results in Europe this summer, and volume and pricing in North America continue to be robust, giving us confidence that 2014 will be the most profitable year in our Company's history."
Business segments' performance
Avis Budget Group's North America revenue increased 8% in Q314, primarily due to an increase in volume, higher pricing, and an increase in ancillary revenue per rental day. Internationally, revenue increased 4%, primarily due to a 4% increase in total revenue per rental day. Truck rental revenue declined 5% due to a 5% decrease in volume, as the truck rental fleet was 8% smaller in 2014.
Article continues below advertisement
Inorganic growth boosted
In August, Avis Budget Group acquired 11 car rental locations, including operations at Chicago O'Hare, Dallas Love Field, and three other airports, from ACE Rent A Car for approximately $10 million plus the cost of the acquired fleet.
In October, the company announced it has entered into a definitive agreement to acquire its Budget licensee for Southern California, which operates directly at Los Angeles International Airport and through sublicensees throughout Southern California and parts of Nevada. The acquisition is scheduled to close in the fourth quarter of 2014, with the purchase price at approximately $210 million plus the cost of the acquired fleet.
Share repurchases
Avis Budget Group repurchased approximately 980,000 shares of its common stock at a cost of $60 million in the third quarter. As of September 30, 2014, the company has repurchased a total of 5.5 million shares at a cost of approximately $260 million since August 2013. In October, the company announced that it has authorized a $200 million expansion of its share repurchase program.
Outlook for 2014
Avis Budget Group has narrowed its full-year 2014 projections of adjusted EBITDA and earnings per share. The company now expects that full-year 2014 revenue will be approximately $8.5 billion, a roughly 7% increase compared to 2013. In the company's North America segment, rental days are expected to increase 6% to 7%, and pricing is expected to increase 2% to 3% in constant currency in 2014.
Its effective tax rate in 2014 will be approximately 37%, excluding certain items, and its diluted share count will be 110 to 111 million, including the effect of repurchasing $300 million to $330 million of outstanding shares in 2014.
Based on these expectations, Avis Budget Group estimates that its 2014 diluted earnings per share, excluding certain items, will increase 28% to 36% compared to 2013, to $2.82 to $3.00. The company also continues to target $1 billion or more of adjusted EBITDA in 2015.
The next part of the series will highlight Marcato's position in Brookfield Residential Properties.