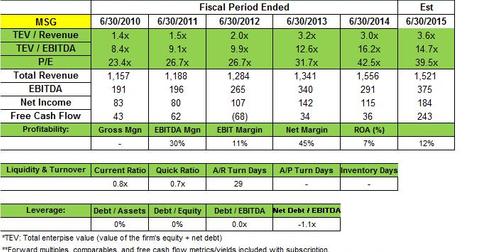 JAT Capital's activist stake in Madison Square Garden
By Patricia Garner

Nov. 27 2019, Updated 1:58 p.m. ET
JAT Capital position summary

John Thaler's JAT Capital Management's top new positions for the quarter ending in June were Amazon.com, Inc. (AMZN), Ctrip.com International, Ltd. (CTRP), and Zillow Inc. (Z). The fund also added to its positions in CBS Corporation (CBS), Yahoo! Inc. (YHOO), Twitter Inc. (TWTR), and Apple Inc. (AAPL), while it reduced its stakes in Time Warner Cable Inc. (TWC) and Qihoo 360 Technology Co Ltd. (QIHU). JAT Capital sold its position in Vipshop Holdings Ltd. (VIPS).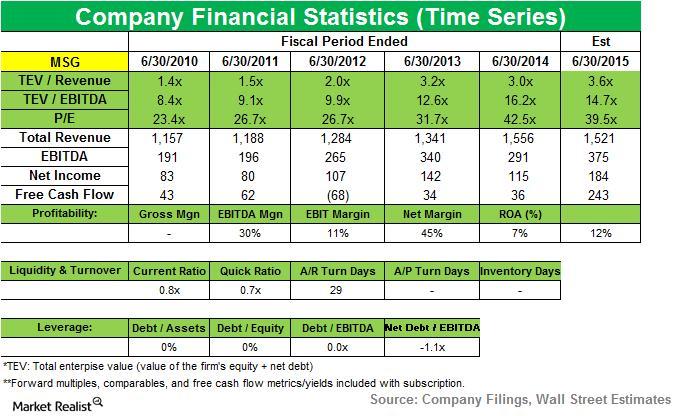 Activist stake
JAT Capital added to its position in The Madison Square Garden Company, or Madison Square. A 13D filing from September 24, 2014, notes that the fund owns 5,955,416 shares. This is up from 3,115,865 shares listed in the 2Q14 portfolio.
The filing says the fund owns an activist stake of 9.36% in Madison Square. The fund expressed its interest in engaging with the company's board of directors and management to discuss the creation of long-term value for shareholders.
About The Madison Square Garden Company
Madison Square is made up of three business segments—MSG Sports, MSG Media, and MSG Entertainment.
MSG Sports
MSG Sports owns and operates the following sports franchises:
the New York Knicks – National Basketball Association
the New York Rangers – National Hockey League
the New York Liberty – Women's National Basketball Association
the Westchester Knicks – National Basketball Association – Development League
the Hartford Wolf Pack – American Hockey League
MSG Sports also features the presentation of a wide variety of live sporting events including professional boxing, college basketball, bull riding, and tennis.
MSG Media
MSG Media is a leader in production and content development for multiple distribution platforms, including content originating from the company's venues. MSG Media's television networks consist of regional sports networks, MSG Network, and MSG+, collectively referred to as MSG Networks.
MSG Entertainment
MSG Entertainment is one of the country's leaders in live entertainment. MSG Entertainment creates, produces and presents a variety of live productions, including the Radio City Christmas Spectacular and the New York Spring Spectacular, both featuring The Rockettes.
Article continues below advertisement
MSG Entertainment also presents or hosts other live entertainment events such as concerts, family shows, and special events in the company's diverse collection of venues. These venues include Madison Square Garden, The Theater at Madison Square Garden, Radio City Music Hall, the Beacon Theatre, the Forum in Inglewood, California, The Chicago Theatre, and the Wang Theatre in Boston, Massachusetts.
JAT Capital went activist in August
In a 13F 2Q filing to the U.S. Securities and Exchange Commission, or SEC, JAT Capital disclosed that it owned 3.1 million shares in Madison Square. Later in August, it made a 13D filing in which it increased its stake in Madison Square to 4.2 million shares, and expressed an interest that the company's board create long-term value for shareholders. In September, it made another amendment to its filing, boosting its stake from 4.2 million to 4.9 million shares of class-A common stock of Madison Square.
In its latest amended filing to SEC, JAT Capital revealed it has an activist stake equal to 9.36% of the company's shares outstanding. It upped its stake to 5.96 million shares, pushing the company's management harder to consider strategic alternatives such as splitting off into two segments.
Entertainment and sports segment boosted revenue
Article continues below advertisement
Madison Square reported fiscal 2015 1Q revenue of approximately $241.7 million, up 12% compared to the same quarter last year. The increase was primarily due to higher revenues from the company's MSG Entertainment and MSG Sports segments. The MSG Media segment's revenue decreased, reflecting the absence of revenues for the Fuse network. The company completed the sale of the network on July 1, 2014.
Revenue by segment
MSG Media
For fiscal 2015 1Q, MSG Media's revenues fell by 14% compared to the same period last year. Affiliation fee revenue decreased $13.9 million, and advertising revenue decreased $10.1 million, primarily because there was no affiliation fee revenue and no advertising revenue for Fuse.
MSG Entertainment
MSG Entertainment revenues increased by 128% in 1Q15 compared to 1Q14. The increase came from higher event-related revenues, as well as higher venue-related sponsorship, and signage and suite-rental fee revenues at The Garden, the Forum, and The Theater at Madison Square Garden. This revenue growth was partially offset by lower event-related revenues at Radio City Music Hall.
MSG Sports
MSG Sports revenues increased 40% in 1Q15 compared to 1Q14, due to higher suite-rental fee revenue, professional sports team pre- and regular-season ticket-related revenue, event-related revenues from other live sporting events, and professional sports team sponsorship and signage revenues.
Article continues below advertisement
The company's CEO said, "Investors favor companies with greater strategic focus on their core businesses. We are exploring the opportunity to improve upon the excellent shareholder return created since MSG's spin-off over four years ago by separating our business into two companies, each with its own distinct value proposition for investors. The live entertainment company would be a premier live event and venue management company with expertise in areas such as productions and other entertainment content, marketing, sales, and event operations. The sports and media company would be a leading company that fields championship caliber sports teams and has the rights to distribute sports content on multiple media platforms. The first company would capitalize on significant opportunities to grow rapidly within the changing entertainment landscape. The second would enjoy steady growth and high cash flow that we expect will result in capital returns to shareholders."
Share prices up on split off plans
Madison Square said it plans to separate live Entertainment businesses from Sports and Media businesses, including the New York Knicks basketball team and New York Rangers hockey team, to create two distinct public companies. Also, the company's board decided to buy back up to $500 million in Class A shares and nominated two new independent directors for election—Nelson Peltz, co-founder of Trian Fund Management LP, and Scott Sperling, co-president at private-equity firm Thomas H. Lee Partners. After the announcement on October 27th, Madison Square's shares shot up $10.89, or 16.6%, to $76.67 in after-hours trading.
In the next segment of this series, we'll review JAT Capital's position increase in CBS Corporation.