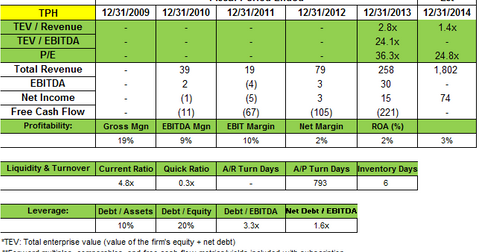 CalPERS adds new position in TRI Pointe Homes
By Samantha Nielson

Nov. 27 2019, Updated 2:59 p.m. ET
CalPERS new position in TRI Pointe Homes
For the quarter ended in September, The California Public Employees' Retirement System (CalPERS) added new positions in Weatherford International Plc (WFT), Liberty Media Corp. (LMCA), Alibaba Group Holding Limited (BABA), Fidelity National Financial Inc. (FNF), CBS Outdoor Americas Inc. (CBSO), and TRI Pointe Homes Inc. (TPH). Top exits included stakes in Fomento Economico Mexicano, SAB de CV (FMX) and Vodafone Group Plc (VOD).
CalPERS added a stake in TRI Pointe Homes Inc., or TRI Pointe, that accounted for 0.01% of the pension fund's total portfolio for the quarter ended in September.
Article continues below advertisement
Overview of TRI Pointe Homes
Headquartered in Irvine, California, TRI Pointe Homes is one of the top ten–largest public homebuilders by equity market capitalization in the US. The company designs, constructs, and sells single-family homes and condominiums through its portfolio of six brands. These include Maracay Homes of Arizona, Pardee Homes of California and Nevada, Quadrant Homes of Washington, Trendmaker Homes of Texas, TRI Pointe Homes of California and Colorado, and Winchester Homes of Washington DC and Virginia. Its operations are organized into two reportable segments—homebuilding and fee building, or construction services.
Completes $2.8 billion acquisition of Weyerhaeuser's home-building operations in July
In July, TRI Pointe closed its $2.8 billion acquisition of Weyerhaeuser Co.'s (WY) home-building subsidiary, Weyerhaeuser Real Estate Company. The acquisition was announced last year and is consistent with TRI Pointe's strategy "to build a strong regional homebuilder focused on the nation's most attractive housing markets."
The transaction expanded TRI Pointe's geographic footprint by providing "entry into high-growth markets that exhibit favorable long-term economic and demographic fundamentals." These markets include Houston, Phoenix, Tucson, Las Vegas, Southern California, the Washington DC metro area, Richmond, and the Puget Sound region of Washington State.
Article continues below advertisement
A release also said TRI Pointe's land inventory increased to approximately 31,000 owned or controlled lots, with more than 19,000 of those lots located in entitlement-constrained California. In its 3Q14 earnings release, the company noted that the merged entity is "well positioned to take advantage of the long term recovery of the housing market."
Home sales revenue grew 55% but profit down
During 3Q14, TRI Pointe said Home sales revenue grew 55% to $471.8 million, while new home orders increased to 803 compared to 767 in the same quarter a year ago. Income from continuing operations fell to $11.0 million, or $0.07 per diluted share from $19.9 million, or $0.15 per diluted share for the third quarter of 2013. Excluding expenses and restructuring charges, income would have been $34.7 million, or $0.22 per diluted share. The results beat Wall Street estimates.
TRI Pointe ended the quarter with 1,440 homes in backlog, representing approximately $870 million in future home sales revenue.
Article continues below advertisement
Reaffirms earnings outlook for 2015
For the full year 2015, TRI Pointe expects to grow communities by 25%. As well, it expects to expand the combined new home deliveries of TRI Pointe and WRECO by in excess of 25% over 2014. The company also reaffirmed its 2015 outlook for earnings per diluted share in the range of $1.25 to $1.40.
Launches TRI Pointe Solutions for end-to-end support to home buyers
The company recently launched TRI Pointe Solutions, made up of TRI Pointe Connect and TRI Pointe Assurance. These offer a suite of home-buyer services that will provide end-to-end support throughout the closing process, including mortgage, title, and escrow services.
The next part of this series will provide an overview of CalPERS' exit from a position in Fomento Economico Mexicano, SAB de CV.