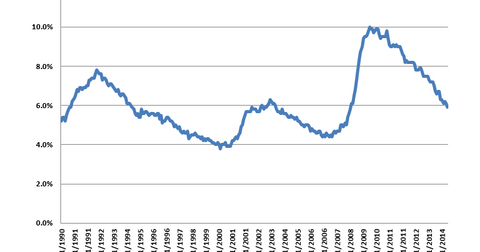 Must-know: Why the unemployment rate matters to mortgage REITs
By Brent Nyitray, CFA, MBA

Oct. 7 2014, Updated 2:26 p.m. ET
The unemployment rate
The unemployment rate is probably the most visible and important economic indicator in the U.S. People's perception of the health of the economy is driven first and foremost by unemployment.
GDP growth is generally considered the barometer of the economy. But the biggest jumps in GDP growth often occur just as recessions end, yet before indicators like unemployment come back.
The official definition of "employment"
People are classified as "employed" if they did any work at all as paid employees during the reference week, worked in their own business, profession, or on their own farm, or worked without pay at least 15 hours in a family business or farm.
People are also counted as "employed" if they were temporarily absent from their jobs because of illness, bad weather, vacation, labor-management disputes, or personal reasons.
The official definition of "unemployment"
People are classified as "unemployed" if they meet all of the following criteria:
They had no employment during the reference week
They were available for work at that time
They made specific efforts to find employment sometime during the four-week period ending with the reference week
People laid off from a job and expecting recall need not be looking for work to be counted as "unemployed." The unemployment data derived from the household survey in no way depends upon the eligibility or receipt of unemployment insurance benefits.
Highlights from the survey
Article continues below advertisement
The unemployment rate ticked down to 5.9% in September from 6.1% in August. The underemployment rate includes discouraged workers (people who want to work but have given up looking), people marginally attached to the labor force, and people employed part-time who want to work full-time. It decreased to 11.8% from 12%.
Implications for mortgage REITs
Up until recently, the Fed had set an unemployment target of 6% to start raising interest rates. As we've approached that number, the Fed backed off from that target and is now using a more holistic view of the labor market.
Mortgage REITs like Annaly Capital (NLY), American Capital Agency (AGNC), MFA Financial (MFA), and Capstead (CMO) are highly sensitive to interest rates and will probably be vulnerable as the Fed starts increasing short-term rates. This is because the yield curve could flatten, meaning long-term rates could stay the same while short-term rates increase. This means interest rate spreads will narrow. Or the yield curve could make a parallel shift, which would result in increased funding costs and capital losses on these REITs' portfolio.
An alternative way to bet on the yield curve would be through the iShares 20 year bond fund (TLT).