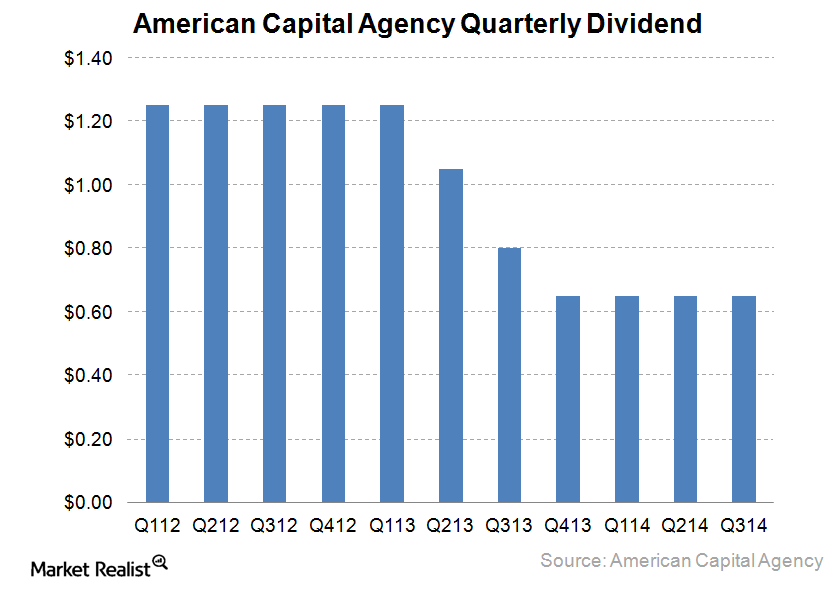 American Capital Agency's 3rd quarter earnings: Company overview
By Brent Nyitray, CFA, MBA

Nov. 20 2020, Updated 12:48 p.m. ET
American Capital Agency is one of the biggest mortgage REITs in the U.S.
American Capital Agency (AGNC) is a diversified agency mortgage REIT that invests all across the agency mortgage-backed security (MBS) space. Mortgage-backed securities are pools of similar mortgages packaged into a security. This increases the liquidity of individual mortgages, which makes them more attractive to investors. This offers the additional benefit of lowering rates for the borrower.
AGNC invests in two basic types of MBS:
Agency pass-through securities, which are garden-variety to-be-announced mortgages
Seasoned agency MBS
AGNC also invests in collateralized mortgage obligations, which are bonds backed by MBS that offer the investor specific exposure to prepayments, credit, et cetera. As a REIT, it must pay out 90% of its earnings as dividends or else it's subject to corporate taxes.
American Capital Agency is a major purchaser of MBS
American Capital Agency is one of the biggest REITs in the U.S. by market capitalization. Annaly Capital Management (NLY) is the other. As such, AGNC is one of the biggest ultimate lenders in the mortgage market.
Article continues below advertisement
Pension funds, REITs, foreign investors, and the Fed are the biggest buyers of mortgage-backed securities. That said, American Capital Agency currently has about $67 billion in assets. At its peak, the Fed was purchasing $40 billion of agency MBS a month. Even with the Fed absent, the REITs are large providers of mortgage financing in the U.S.
American Capital Agency versus its peers
The company purchases only agency mortgage-backed securities. This means it buys only government-guaranteed, or government-sponsored, securities—those issued by Fannie Mae, Freddie Mac, or Ginnie Mae. So the company takes no credit risk. All of its risk is interest rate risk.
AGNC mainly invests in fixed-rate mortgages, which means the best comp for American Capital Agency is in fact Annaly Capital (NLY). Other agency REITs, like MFA Financial (MFA) or Capstead (CMO), invest primarily in adjustable-rate securities. These REITs tend to have less interest rate risk than AGNC for similar amounts of leverage.
Finally, there are non-agency REITs like Newcastle (NCT), which invest in non-agency MBS. This means they take credit risk.