6-month Treasury bill auctions see lowest coverage in over a year
By Phalguni Soni

Nov. 26 2019, Updated 6:19 p.m. ET
Overview of Treasury bills auctions
Treasury bills are the shortest-maturity Treasury (UST) (IEF) securities. They mature in a year or less. Weekly auctions are held for one-month, three-month, and six-month maturities. The iShares Short Treasury Bond ETF (SHV), PIMCO Enhanced Short Maturity ETF (MINT), and the SPDR Barclays 1-3 Month T-Bill (BIL) provide exposure to Treasury bills.
The U.S. Department of the Treasury auctioned Treasury bills (or T-bills) worth $88 billion in the week ending October 24.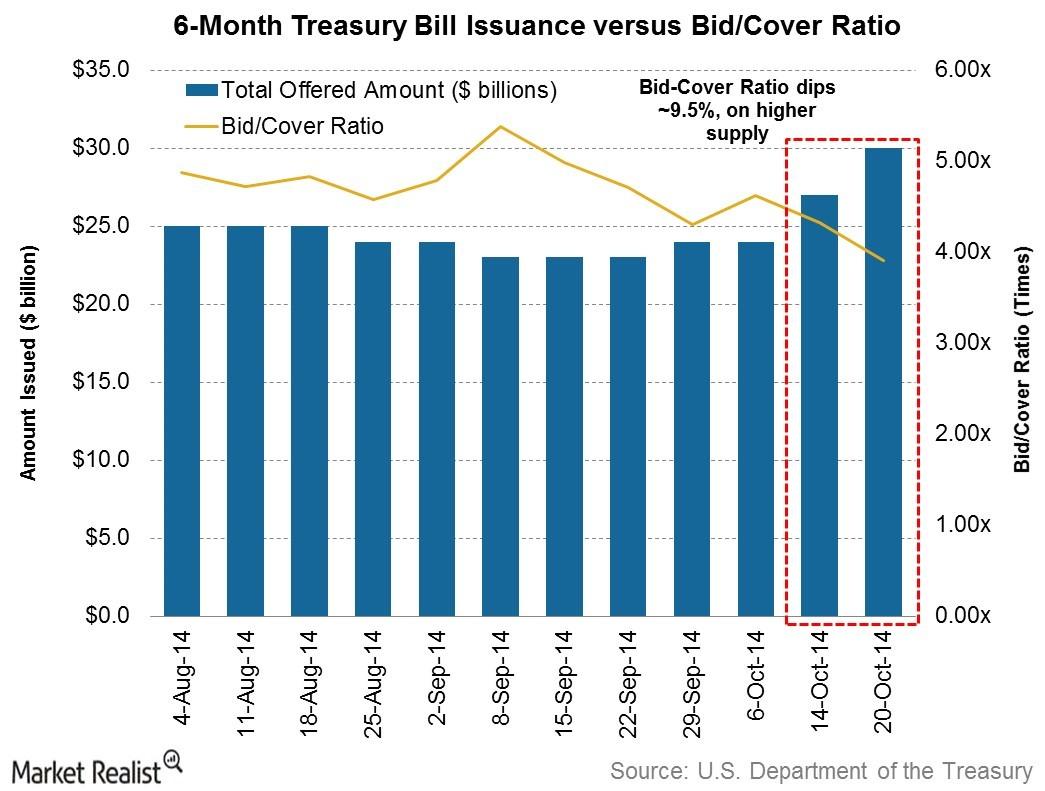 6-month (or 26-week) Treasury bills auction demand
Article continues below advertisement
Last week, the U.S. Treasury auctioned six-month Treasury bills worth $30 billion, which was $3 billion higher than the previous week. Although auction demand was higher in absolute terms, the bid-to-cover ratio dipped by ~9.5% to 3.9x week-over-week. This was the lowest level since the auction held on October 15, 2013. The ratio has averaged ~4.8x in 2014.
Market demand was lower due to lower indirect bidding. The percentage of indirect bids fell to ~22.3% of the competitive bids, from ~41%, the previous week. Direct bids were higher, however, rising from ~4.9% to ~8.9%, week-over-week. Direct bids include bids from domestic money managers such as IVV components American Insurance Group (AIG) and US Bancorp (USB).
Due to lower market demand, primary dealer takedown spiked to 68.9% from 54.1% the previous week. Primary dealers act as market makers for the auctioned securities and are obligated to bid at auctions. They're a group of 22 authorized securities dealers or brokers obliged to bid at Treasury auctions and mop up excess supply.
6-month (or 26-week) Treasury bills auction yield
T-bills don't pay a coupon. They're offered at a discount to face value and redeemable at par on maturity. The high discount rate for the October 20 auction came in at 0.05%, matching the average of 0.05% in 3Q2014.
3-month Treasury bills auction
The next section will discuss the key takeaways from last week's three-month Treasury bills auction.