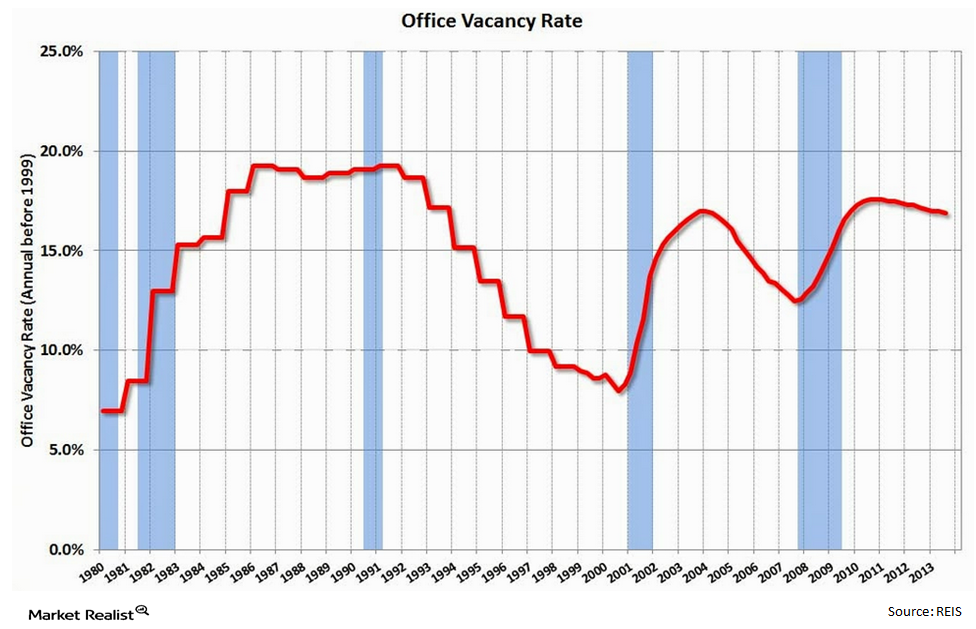 Change in the economy's speed limit will affect commercial REITs
By Brent Nyitray, CFA, MBA

Oct. 29 2019, Updated 9:38 p.m. ET
Two different economic forces are driving REITs right now
Economic forces that work at cross-purposes to each other are driving the commercial real estate investment trust (or REIT) sector. This is similar to the situation that non-agency mortgage REITs are facing.
Interest rates and credit
The REIT sector uses a lot of leverage. The REITs have to payout 90% of their income as dividends. As a result, they aren't able to build up big cash cushions. This limitation leaves REITs at the mercy of the credit markets.
REITs use leverage because the cap rates on various strategies are usually small. When interest rates rise, their cost of funds increase as well—especially if the increase happens at the short end of the curve.
The Fed isn't thinking about raising the federal funds rate any time soon. However, the financial markets are handicapping. The time will come when the federal funds rate will increase. The yield curve includes that forecast by definition.
So, even if the Fed has no intention of raising the federal funds rate at the upcoming meeting, the markets will still adjust their forecasts and the yield curve will react.
Implications for mall REITs
Article continues below advertisement
In contrast, the Fed will be increasing interest rates due to more robust economic activity. Increasing economic activity will drive more consumption. This is good news for mall REITs. However, lowering the economy's "speed limit" is a negative at the margin. These REITs are still struggling with historically elevated vacancy rates.
Consumption has been sluggish because the consumer has de-leveraged. However, that may be changing. If it changes, this is good news for mall REITs like Simon Property Group (SPG) and General Growth Properties (GGP).
Implications for office REITs
Economic strength will be good news for office REITs like Boston Properties (BXP), Kilroy (or KRC), Vornado (VNO), and S.L. Green (SLG). They're still dealing with historically high office vacancy rates. Also, they want to see more evidence of hiring.
The Fed believes that the labor force will be limited by the issue of the long-term unemployed. This means that there's less need for capacity than previously forecast. That said, there's been very little office building over the past five years. So, they could find themselves in a tight market if the Fed's forecasts are wrong and the long-term unemployed find their way back into the labor force.