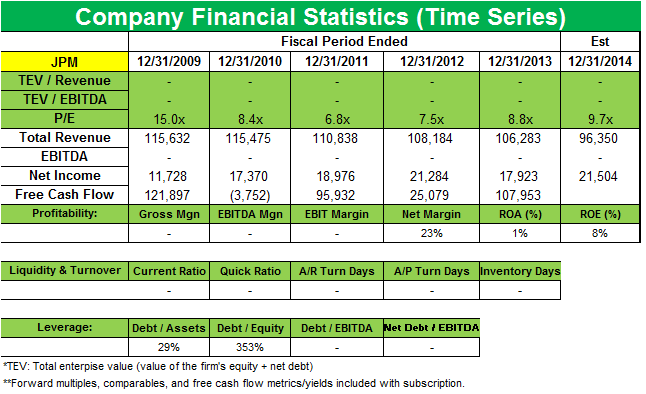 George Soros' fund sells its stake in JPMorgan Chase in 1Q14
Soros Fund Management and JPMorgan Chase
Soros Fund Management added new positions in Baker Hughes Inc. (BHI), RF Micro Devices Inc. (RFMD), Devon Energy (DVN), Spansion Inc. (CODE), and Marathon Petroleum (MPC) in 1Q14. The top positions it sold include J.P. Morgan Chase & Co. (JPM), Citigroup (C), and J.C. Penney (JCP).
George Soros' Soros Fund Management sold positions in banking giants JPMorgan Chase (JPM) and Citigroup (C) in 1Q 2014. These two positions were initiated in 4Q 2013. JPMorgan and Citigroup had accounted for 1.41% and 1.01%, respectively, of Soros' total 4Q portfolio.
Article continues below advertisement
Shares fell after JPMorgan reported 1Q results that were below Street expectations. Revenue for the quarter was $23.9 billion, down 8% compared to the prior year. The decrease from the prior year was driven by lower mortgage fees and related income, securities gains, and principal transactions revenue. Net income for the first quarter of 2014 dropped 19% to $5.3 billion from $6.5 billion in the first quarter of 2013. Earnings per share were $1.28, compared to $1.59 in the first quarter of 2013. The decrease in net income from the first quarter of 2013 was driven by lower net revenue and higher provision for credit losses, partially offset by lower non-interest expense.
JPMorgan said the results were considered to be a "good start" to the year despite "industry-wide headwinds in Markets and Mortgage." The bank's bond trading revenue fell 21% and mortgage lending revenue plunged 84% from the same quarter last year. In 4Q 2013, the bank, like its other peers such as Wells Fargo & Co. (WFC) and Citigroup, saw a huge fall in mortgage income amid rising interest rates ahead of the Federal Reserve's tapering.
Article continues below advertisement
The bank's outlook for fixed income and equities said that "based on Markets revenue results to date, which reflect a continued challenging environment and lower client activity levels, it expects 2Q14 Markets revenue to be down approximately 20%+/- versus 2Q13. The Markets revenue actual results will depend heavily on performance throughout the remainder of the quarter, which can be volatile." A report in the New York Post said the bank could see 10,000 more layoffs.
JPMorgan said its board intends to increase the second quarter common stock dividend from the current $0.38 per share to $0.40 per share. The firm repurchased $0.4 billion of common equity in the first quarter and is authorized to repurchase $6.5 billion of common equity through the first quarter of 2015.