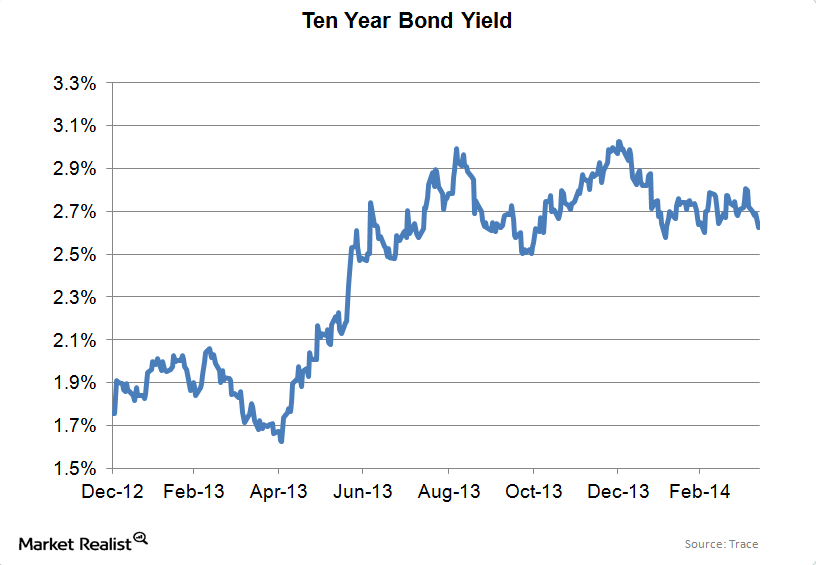 Must-know update: Bonds benefit from the risk-off trade
By Brent Nyitray, CFA, MBA

Nov. 20 2020, Updated 3:40 p.m. ET
Why follow this weekly real estate roundup?
The roundup is a weekly series in which we discuss the week's trading in government bonds and TBA (To-Be-Announced) mortgage-backed securities. We'll see where mortgage rates have been and we'll go over the weekly economic data and earnings announcements. Then we'll look forward to what's coming up the following week. The information in this series will be relevant to mortgage REITs like American Capital Agency (AGNC), Annaly (NLY), Hatteras (HTS), Capstead (CMO), and MFA Financial (MFA) as well as people who invest in fixed income ETFs like TLT or in homebuilders.
Bonds rally as the stock market sells off
There was almost no important economic data last week, so bonds basically traded inverse to the stock market. Stocks sold off heavily on Thursday after a weak earnings report out of J.P. Morgan (JPM). The sell-off continued on Friday.
Article continues below advertisement
The FOMC minutes were released on Wednesday, and the bonds rallied a few basis points on the report, but that was probably not the catalyst for the rally the rest of the week. We did have a good initial jobless claims number, along with a higher than expected import prices number on Thursday, but those would not have caused the bond market to rally the way it did.
After starting the week at 2.72%, bonds rallied to finish the week at 2.62%. Most of the movement was on Thursday and Friday as the equity market sold off heavily. The S&P 500 lost 39 points on Thursday, and another 17 points on Friday.
In the next parts of this series, we'll look at trading in the TBA market (which is the basis for mortgage rates), see where mortgage rates have been for the week, and then discuss the past and upcoming economic data.