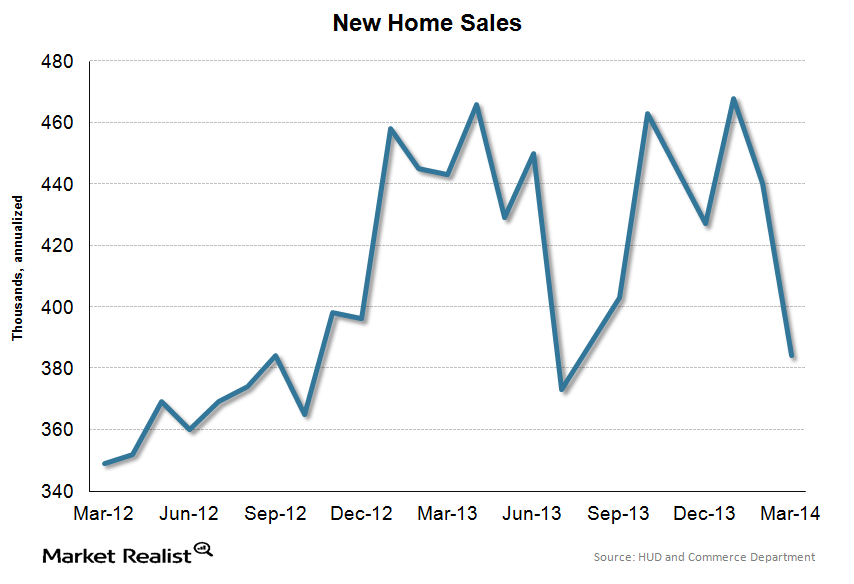 Why focus on new home sales and homebuilder earnings?
The good news…
Last week didn't have a lot of important economic data, but we did have some important releases. The Index of Leading Economic Indicators came in reasonably strong, implying that "recovery summer," which has been somewhat of a running joke since 2009, might be finally upon us. Durable goods orders were strong as well, which was positive, and the University of Michigan Consumer Confidence Index was good as well.
The bad news….
Article continues below advertisement
New home sales came in well below expectations, at 384,000, as opposed to 450,000. This was a terrible number, and this time around, you can't blame the weather. It appears that the combination of increasing average selling prices and increasing mortgage rates have finally caused the homebuyer to say "uncle." For all the good economic data, unless we have a robust housing sector (and by "robust," I mean 1.5 million housing starts, not 900 thousand) we're not going to experience anything that feels like an expansion.
Homebuilder earnings
Last week, we heard from three builders—PulteGroup (PHM), D.R. Horton (DHI), and Ryland (RYL). All three beat their lowered expectations. Pretty much everyone had the same story: average selling prices up, volume down. Builders will have to increase volume to drive revenue growth at this point—the era of double-digit ASP increases is probably over. The homebuilding segment has definitely been a case of two sectors—the luxury sector, which is doing extremely well, and the first-time homebuyer sector, which is getting bombarded by increasing real estate prices, rising interest rates, and a lousy job market. The homebuilders could very well find themselves caught flat-footed when the first-time homebuyer returns. There's a tremendous amount of pent-up demand.
Commercial REITs will be encouraged by economic strength
Commercial REITs in the retail space, like Simon Property (SPG) and General Growth Properties (GGP), will certainly take comfort in the leading economic indicators report. This will undoubtedly be good news for office REITs like Boston Properties (BXP) and Vornado (VNO).
Implications for mortgage REITs
Mortgage REITs, like Annaly (NLY) and American Capital (AGNC), are driven by interest rates, which have been in a tight trading range. Investors are becoming more comfortable with the idea that the Fed isn't looking to raise rates too soon (people seem to have digested the possibility, although probably unlikely, that the Fed will start hiking rates at the June 2015 FOMC meeting.