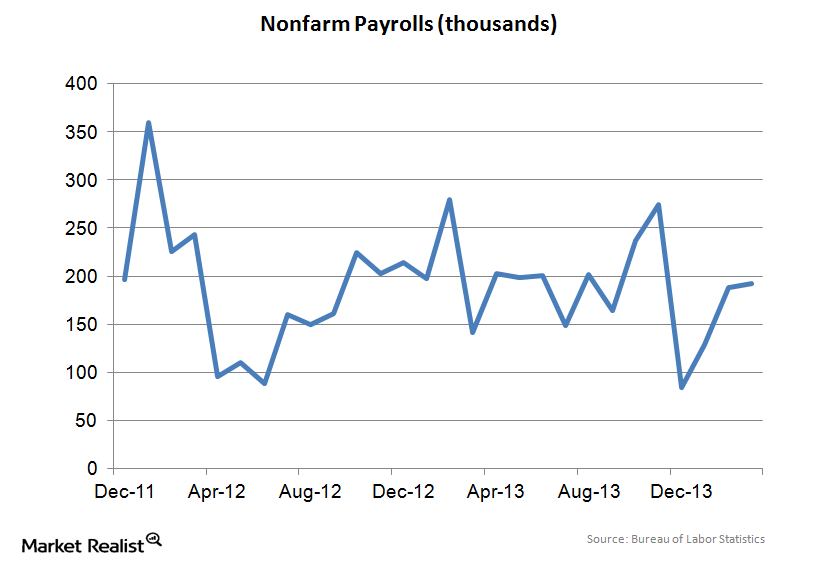 Why the Fed is remaining on its glide path after the jobs report
The all-important jobs report
Last week was all about the jobs report, although we had some important manufacturing data as well. Payrolls increased by 192,000 which was slightly below expectations, but not terrible. The prior month was revised upward. The unemployment rate was unchanged at 6.7% and the labor force participation rate ticked up to 63.2%. Overall, the jobs report was neither strong enough nor weak enough to alter the Fed's glide path on tapering.
Some stronger-than-expected economic data
Article continues below advertisement
We had some other important data, primarily the ISM reports, which showed manufacturing accelerating. The ISM Services report showed that sector accelerating as well. Construction spending ticked up slightly, and factory orders were much better than expected. The economic data is suggesting a bit of a rebound from its weather-driven slump early in the year.
Homebuilder earnings
We heard from KB Home (KBH) and Lennar (LEN) recently. Both reported strong numbers, and average selling prices continue to rise. The homebuilding segment has definitely been a case of two sectors—the luxury sector, which is doing extremely well, and the first-time homebuyer sector, which is getting bombarded by increasing real estate prices, increasing interest rates, and a lousy job market.
Commercial REITs will be encouraged by economic strength
Commercial REITs in the retail space like Simon Property (SPG) and General Growth Properties (GGP) will certainly take comfort in the ISM services report, which signals jobs growth. Separately, the Challenger, Gray and Christmas outplacement firm reported that announced job cuts in the first quarter were the lowest in 20 years. This will undoubtedly be good news for office REITs like Boston Properties (BXP) and Vornado (VNO).
Implications for mortgage REITs
Mortgage REITs, like Annaly (NLY) and American Capital (AGNC), are driven by interest rates, which basically went nowhere. Investors are becoming more comfortable with the idea that the Fed isn't looking to raise rates too soon (people seem to have digested the possibility (although probably unlikely) that the Fed will start hiking rates at the June 2014 FOMC meeting.