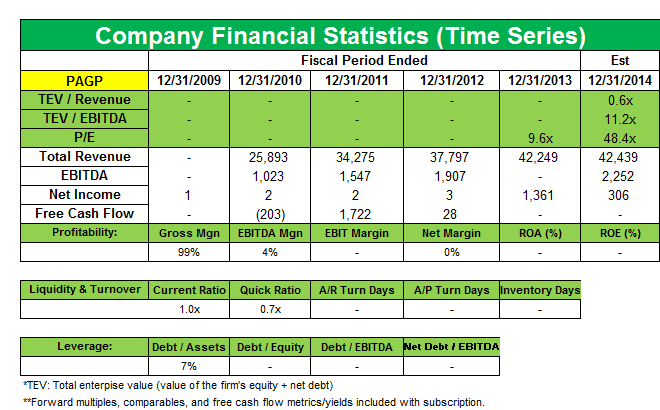 Why did Magnetar Financial buy stake in Plains GP Holdings?
By Samantha Nielson

Mar. 14 2014, Published 6:25 p.m. ET
Magnetar Financial LLC and Plains GP Holdings LP
Magnetar Financial LLC initiated new positions in Plains GP Holdings LP (PAGP), American Airlines Group Inc. (AAL), and Gaming And Leisure Properties (GLPI) and it added to its positions in Teekay Corp. (TK), Lamar Advertising (LAMR), and Denbury Resources (DNR).
Magnetar initiated a brand new position in Plains GP Holdings LP (PAGP) that accounts for 2.06% of the fund's 4Q portfolio.
Plains GP Holdings, an affiliate of Plains All American Pipeline (PAA), launched an IPO in October of last year. The company priced its initial public offering at $22 per share and raised $2.82 billion, making it the largest U.S. IPO in 2013.
Article continues below advertisement
Upon completion of the offering, Plains GP Holdings will own 21.1% of the limited partner interests in Plains AAP, LP, which directly owns all the incentive distribution rights and indirectly owns the 2% general partner interest in the Houston-based Plains All American Pipeline. PAA is a publicly traded master limited partnership that transports, stores, terminals, and markets crude oil and refined products and also processes, transports, fractionates, stores, and markets natural gas liquids. PAA also owns and operates natural gas storage facilities.
The source of Plains GP Holdings' earnings and cash flow will initially consist exclusively of cash distributions from AAP, which themselves will initially consist exclusively of cash distributions from PAA. Plains GP Holdings is an MLP, but it has elected to be treated as a corporation for tax purposes, so its tax return requirements are the same as for any other corporation. PAGP distributed the net proceeds of the offering of approximately $2.73 billion to the existing owners of Plains AAP, L.P. including Occidental Petroleum (OXY), The Energy and Minerals Group, and Kayne Anderson Capital Advisors.
Article continues below advertisement
In January, PAGP declared a quarterly dividend of 0.1251 per share, which corresponds to a full-quarter distribution of $0.15979 per Class A share, reflecting a 7.2% increase over the initial quarterly distribution rate of $0.14904 per Class A share included in PAGP's IPO prospectus. PAGP estimates that its November 2014 quarterly distribution should increase by approximately 25% relative to the initial distribution rate included in PAGP's IPO prospectus.
Plains All American Pipeline earnings fell 13%, impacted by weaker adjusted results at its supply and logistics business. Supply and Logistics adjusted segment profit decreased approximately 22%, primarily due to less favorable crude oil market conditions during the fourth quarter of 2013—particularly narrower crude oil differentials in the Permian Basin and Gulf Coast regions. These were partially offset by stronger net margins in the NGL business. PAA's management said it raised distributions in 2013 by 10.6% through November while generating distribution coverage of 143%, and it has set the stage for continued growth in 2014 and beyond by ending the year with a robust capital program and a very solid balance sheet and healthy liquidity position.