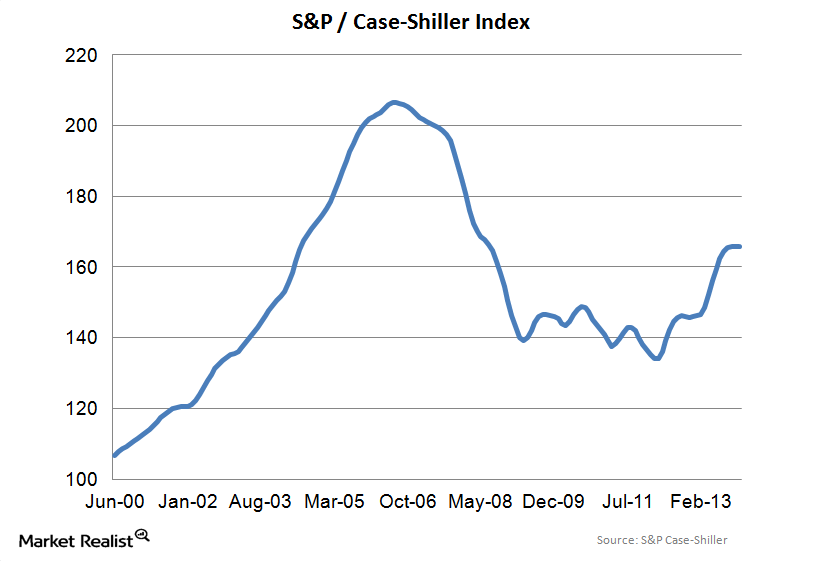 Case-Shiller index is still posting double-digit annual increases
Real estate and mortgage professionals watch the Case-Shiller index closely
The Case-Shiller index is the most widely quoted index of real estate values. Real estate values are big drivers of consumer confidence and spending, and they therefore have an enormous effect on the economy. The phenomenon of "underwater" homeowners—those who owe more than their mortgage is worth—has been a major drag on economic growth. Underwater homeowners are reluctant to spend, and they can't relocate to where the jobs are. So real estate and mortgage professionals watch the real estate indices closely.
Article continues below advertisement
Real estate prices are also a big driver of credit availability in the economy. Mortgages and loans secured by real estate are major risk areas for banks. When real estate prices start falling, banks become conservative and hold reserves for losses. Conversely, increasing real estate prices make the collateral worth more than the loan, which encourages banks to lend more.
Housing continues its rebound off the bottom as tight inventory causes a bidding war
The index increased 0.8% month-over-month and 13.4% year-over-year. Prices have risen the most in the areas that were hit the hardest—places like Phoenix and Detroit, as well as some of the hot markets in California, especially San Francisco. However, prices haven't shown as much growth in states where a judge must approve foreclosures. The judicial states are primarily in the Northeast, most notably New York and New Jersey.
Article continues below advertisement
The theme of the real estate market for the past year has been tight inventory. Professional investors (hedge funds and private equity firms) have raised capital to purchase and rent out single-family homes. This trend has been driven by auctions from the Federal Government, primarily the FDIC (Federal Deposit Insurance Corporation) and FHA (Federal Housing Administration). These entities have been auctioning off billions of dollars worth of real estate and have required investors to hold them for three years. This requirement has taken supply off the market (or at least the perception of supply), which has helped the real estate market find some support. These professional investors are competing for properties with first-time homebuyers, which is making the starter home a scarce commodity.
Implications for mortgage REITs
Real estate prices are a bigger driver of non-agency REITs, such as CYS Investments (CYS), Newcastle (NCT), and Redwood Trust (RWT), than they are for agency REITs like Annaly (NLY) and American Capital (AGNC). When prices rise, delinquencies drop, which is important because non-agency REITs face credit risk. Even for agency REITs, which invest in government mortgages, rising real estate prices can drive prepayments, which negatively affects their returns. Rising real estate prices also help reduce stress on the financial system, which makes securitization easier and lowers the cost of borrowing. Finally, those REITs with large legacy portfolios of securities from the bubble years are able to stop taking mark-to-market write-downs and may revalue their securities upwards. Since REITs must pay out most of their earnings as dividends, higher earnings mean higher cash flows to the investor.
To learn more about investing in REITs, see Why slowing expansion in Texas means painful news for REITs.