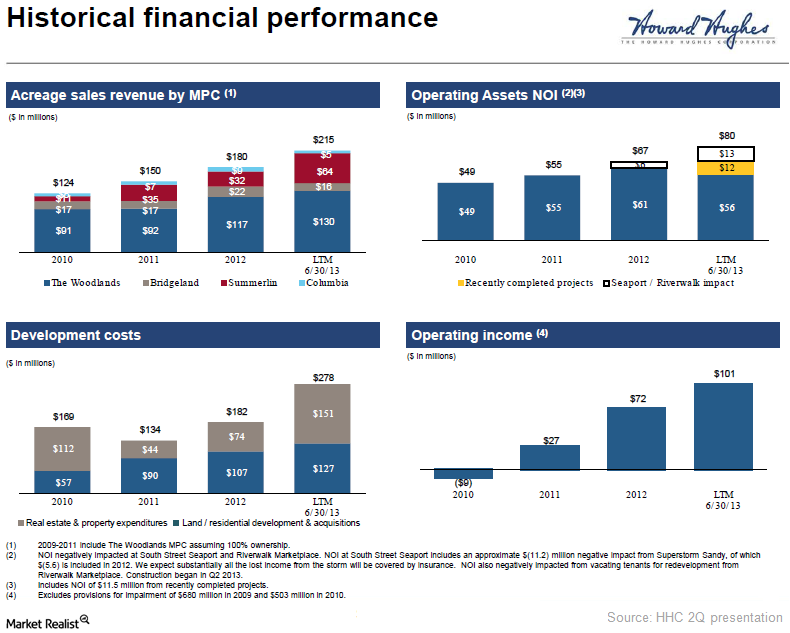 Ackman increased Pershing's stake in Howard Hughes Corporation
By Samantha Nielson

Nov. 20 2020, Updated 11:54 a.m. ET
Pershing Square increases stake in Howard Hughes Corporation
An amended 13D filing earlier this month revealed that activist investor Bill Ackman's hedge fund, Pershing Square Capital, increased its stake in Howard Hughes Corporation (HHC) to 13.2%, or 5,484,684 shares. Pershing Square Capital also extended swaps and maintained a total aggregate economic exposure of 10.9 million shares, or 26.2% outstanding.
The filing states:
Article continues below advertisement
"As of January 2, 2014, the Reporting Persons beneficially owned an aggregate of 3,568,017 Common Shares as well as currently exercisable Series A-2 warrants to purchase an additional 1,916,667 Common Shares, representing approximately 13.2% of the Issuer's outstanding Common Shares. The Reporting Persons also have additional economic exposure to approximately 5,399,839 notional Common Shares under certain cash-settled total return swaps, bringing their total aggregate economic exposure to 10,884,523 Common Shares (approximately 26.2% of the outstanding Common Shares)."
Ackman said in an interview with Bloomberg that Howard Hughes Corp. is probably the best undiscovered long idea anywhere in capital markets, and that Pershing Square will probably own a stake in the company "forever."
Ackman is also the chairman of Howard Hughes, which was spun off from General Growth Properties three years ago. Ackman's Pershing Square, Fairholme Capital Management LLC, and Brookfield Asset Management Inc. came together to bring General Growth out of bankruptcy, defeating a takeover bid by rival mall owner Simon Property Group Inc.
In 3Q 2013, Howard Hughes reported $0.26 earnings per share, missing analysts' consensus estimate of $0.55. The company had revenue of $103.51 million for the quarter, above analyst estimates. The stock has surged more than 200% since it was spun off from GGP. The stock is poised to benefit from the recovery in the real estate market.
Howard Hughes Corporation owns, manages, and develops commercial, residential, and mixed-use real estate throughout the United States. Its properties include master-planned communities, commercial mixed-use, retail, and office properties, development opportunities, and other unique assets—spanning 16 states, from New York to Hawaii. The company controls many of General Growth's attractive assets, including much of the real estate in the planned communities of The Woodlands, Texas, and Columbia, Maryland.
Article continues below advertisement
The company's master-planned community business consists of the ownership, development, and sale of property at four communities, with over 14,000 acres of land remaining to be sold. These include Summerlin in Las Vegas, Bridgeland and The Woodlands in Houston, and Columbia, Fairwood, and Emerson in Maryland. Land sales in the company's MPC segment, excluding deferred land sales and other revenue, increased $14.5 million, or 35.9%, to $54.9 million for 3Q 2013. Summerlin continued to experience a strengthening housing market. New housing demand and a scarcity of attractive land, combined with decreasing available existing inventory for both new and resale homes in the Las Vegas valley, drove significant increases in land prices. Builder activity is strong at Summerlin, as sales by homebuilders increased 19.5%, with 153 new home sales during 3Q 2013 compared to 128 for the same period in 2012.
The company's eight operating properties are primarily retail and include South Street Seaport (Manhattan, New York), various properties in Columbia Town Center (Columbia, Maryland), Landmark Mall (Alexandria, Virginia), Riverwalk Marketplace (New Orleans, Lousiana), Cottonwood Square (Holladay, Utah), Park West (Peoria, Arizone), and Ward Centers (Honolulu, Hawaii). Currently, several of the operating properties present significant opportunities for redevelopment. The net operation income (NOI) from Hughes' combined retail, office, and resort and conference center and multi-family properties was $10.5 million for 3Q 2013, compared to NOI of $16.1 million for 3Q 2012. These diversified operating assets have the potential for future growth through redevelopment or repositioning.
The company also has an exciting and diverse pipeline of strategic opportunities for near-, mid-, and long-term development. These range from air rights and surface parking lots to aging properties poised for redevelopment. During 3Q 2013, the Hawaii Community Development Authority (the HDCA) approved permits for the first two market-rate condominium towers and a workforce condominium tower at Ward Village. The company said it has a robust development pipeline with meaningful near-term opportunities.