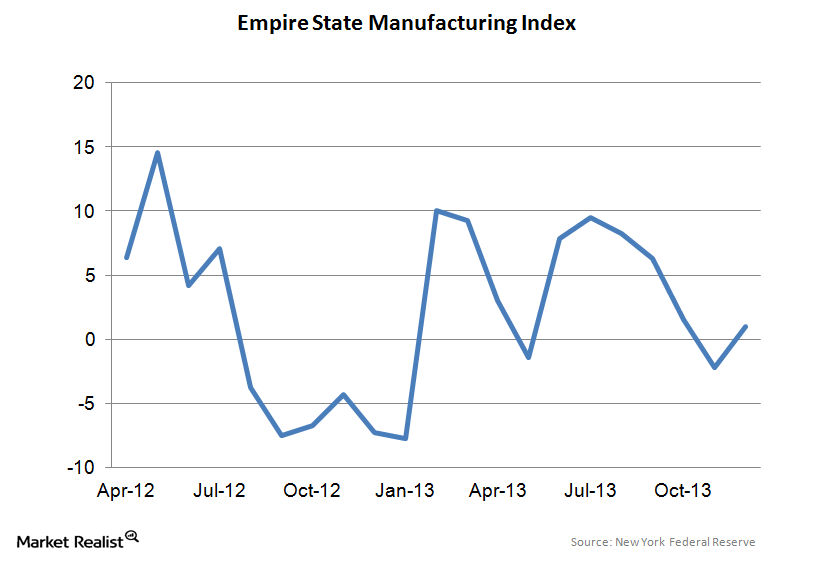 Empire State Manufacturing Index improves, outlook remains bright
By Brent Nyitray, CFA, MBA

Nov. 20 2020, Updated 3:12 p.m. ET
The Empire State Manufacturing Survey is a barometer of economic conditions in New York State
The survey is put out by the New York Fed and covers a wide range of economic indicators—from general business conditions to new orders, shipments, unfilled orders, delivery times, inventories, prices paid and received, headcount, and average workweek. It also asks businesses for their outlook six months out. It's a relatively comprehensive survey of business conditions, but it concentrates on New York State, which is a small subset of the population. Like most Fed surveys, it employs a diffusion index methodology, asking respondents whether a certain metric is getting better, getting worse, or staying the same. The index value is the percent of respondents who say the metric is getting better less the percent who say it's getting worse.
Index increases and approaches "normalcy," while internals improve markedly from last month
Article continues below advertisement
The general business conditions index rose 3 points, and closed at +1 (24.9% of respondents reported better conditions, while 23.9% reported worse conditions—so the net result is 1%), which was an improvement from last month. The headline general business conditions survey was the highlight of the report. The New Orders index rose 2 points to -3.5, and the shipments index jumped 8 points, to 7.7. While this report isn't a blowout by any stretch, it does show that the weakness from late spring and early summer was transitory. The employment outlook fell, as did the six-month outlook, but the outlook is still very positive. Overall, this report shows New York manufacturing in a steady state.
Every month, the survey contains a special question, and this month, it asked firms what their biggest problems are. Unsurprisingly, benefit costs comes in first, as healthcare inflation has been a continuing problem, and it looks like the Obamacare mandates will exacerbate that problem. The second biggest problem is finding qualified workers. This may seem surprising given the amount of slack in the workforce, but skilled labor is hard to find. The homebuilders have almost uniformly mentioned this issue, as skilled construction workers changed careers after the housing bust. Taxes and regulation make up number 3 and number 4, and weak sales round out the top 5. These concerns mirror Bill Dunkelberg's NFIB survey.
Implications for homebuilders
Article continues below advertisement
Overall, the report shows the economy is still expanding moderately, and firms are generally optimistic about the future. Consumer sentiment is driven first and foremost by jobs, and nothing in this report indicates that employment conditions will get materially worse. Employers expect the average workweek to increase, and plans for increased capital expenditures increased slightly. Overall, you could consider the report a modest positive for homebuilders.
The increase in manufacturing activity will drive job creation, which will drive more business for homebuilders like Ryland (RYL), Meritage (MTH), KB Home (KBH), Toll Brothers (TOL), and NVR (NVR). Right now, the luxury end of the market is doing best, but increasing manufacturing jobs will help the builders who serve the lower end of the market, which will have a huge overall economic benefit.