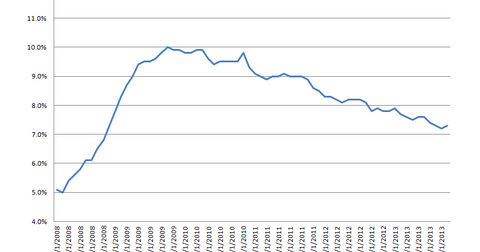 Week in Review: Jobs, REIT earnings, and key homebuilder mergers
By Brent Nyitray, CFA, MBA

Nov. 12 2013, Published 4:00 p.m. ET
The ten-year bond is the basic driver of REITs and homebuilders
Long-term interest rates are priced off the benchmark long-term bond, which is the ten-year Treasury. These days, the ten-year bond reacts to economic data through the Federal Reserve's asset purchase program, also known as quantitative easing (or QE). As a general rule, economic data that shows weakness is bond bullish (positive). However, data that shows strength isn't necessarily bond bearish (negative).
Bonds sell off on a stronger-than-expected jobs report
Article continues below advertisement
Last week, we had some important data points—with the advance estimate for third quarter GDP and the all-important jobs report. The GDP report was better than expected, as was the jobs report. Despite the strong GDP report (2.8% for Q3), bonds rallied. However, that rally was stopped in its tracks by the stronger-than-expected jobs report. The ten-year tacked on 13 basis points for the week.
REIT earnings
Last week was big for the mortgage REITs. We heard from heavyweights like Annaly (NLY), Two Harbors (TWO), and MFA Financial (MFA). Most of the REITs reported declines in book value, but nothing like we saw at the end of the second quarter. Most REITs have deleveraged in a big way
Homebuilder M&A
We're starting to see mergers and acquisition activity in the homebuilding space, with two deals. First Tri Pointe Homes (TPH) is buying Weyerhaeuser's homebuilding unit, and Toll Brothers is buying Shapell. We can attribute much of this to the two-tiered financing market in general. Large companies are able to borrow at exceptionally low interest rates and almost have money being thrown at them by the Street. Smaller builders, however, are stuck dealing with the banks, and credit is much tighter for them.
Implications for mortgage REITs
Article continues below advertisement
Mortgage REITs, like Annaly (NLY) and American Capital (AGNC), are driven by interest rates. The mortgage REITs have been crushed as the ten-year bond has sold off, but they've been trying to form a bottom here. For REITs, it's all about the Fed's exit of QE (quantitative easing). Friday's jobs report was probably strong enough to bring a December tapering back into the picture, but it is a long shot.
Implications for homebuilders
Homebuilders, like Lennar (LEN), KB Home (KBH), and Standard Pacific (SPF), are more sensitive to general economic strength. The ISM report certainly was a positive for them, as was the jobs report, although it wasn't that great. Earnings season for the builders is winding up and we're heading into a seasonally slow time for the builders. It is too early to tell if the recent decline in rates (notwithstanding Friday's report) has had any effect on traffic.