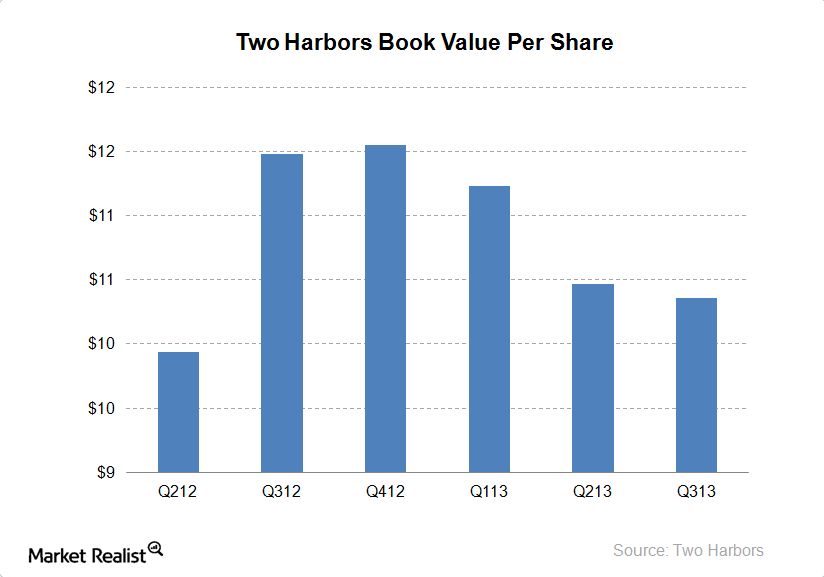 Must-know: Two Harbors reports a small decline in book value
By Brent Nyitray, CFA, MBA

Nov. 7 2013, Published 12:21 p.m. ET
Two Harbors Investment Corp. is a non-agency REIT that has a diversified portfolio of assets
Two Harbors (TWO) is a mortgage REIT associated with the Minneapolis-based hedge fund Pine River Capital. It invests in agency mortgage-backed securities (mortgage-backed securities with a government guarantee), non-agency mortgage-backed securities, residential whole loans, and other financial assets. Its portfolio as of the end of the second quarter was roughly 77% agency bonds, which almost entirely consisted of fixed-rate mortgage-backed securities, while the remainder was non-agency bonds. Two Harbors employs a lot less leverage than its competitors. Its debt-to-equity ratio decreased from 3.6 to 3.0 during the quarter, which is well below the high–single-digit ratios we see for the typical agency REIT.
Highlights of the quarter
Article continues below advertisement
Certainly the lower leverage ratios helped Two Harbors outperform its competitors this quarter. Its aggregate portfolio yield is higher at 4.0%, which reflects the fact that it bears credit risk as well as interest rate risk. Core Earnings per share came in at $0.19 per share, which was lower than the Street consensus of $0.24 per share. In spite of the earnings miss, the stock was up about 2% in response. Virtually every mortgage REIT has missed numbers so far. Two Harbors declared a dividend of $0.28 per share and book value dropped from $10.47 to $10.36, a decline of about 1%. After ending the second quarter net short in TBAs, the company went long again.
Two Harbors has been building its mortgage servicing rights portfolio. It recently bought an agency seller-servicer, which added $1.5 million in mortgage servicing rights to the portfolio. They also announced a flow agreement with PHH, which is another way it's building its MSR portfolio. This means Two Harbors has something in common with Nationstar (NSM) and Ocwen (OCN). Mortgage servicing rights can be an attractive asset for mortgage REITs because they act as a hedge. Most REITs have mortgage-backed securities, which decline in value as rates increase. Mortgage servicing rights increase in value as rates increase. They can be a long-term bet. Interest rate cycles are long, and we're probably in for an extended period of gradually increasing interest rates. MSRs will benefit in this environment.
Read-across to other mortgage REITs
Two Harbors has continued to de-leverage, and its lower leverage undoubtedly helped it in the third quarter. That said, its non-agency investments also benefit from this sort of economic environment, where interest rates may be rising but credit is also improving. The TBA hedge certainly must have helped the company—against its $15 billion portfolio, it was short $2.7 billion of TBAs, although we don't know when it lifted the hedge and went long. It must have recognized that big agency REITs like American Agency Capital (AGNC) were going to have to de-lever and wanted to insulate itself from that as much as it could. We've yet to hear from Annaly (NLY), but it was probably de-levering as well. Two Harbors' sophisticated investment strategy of buying mortgage servicing rights and being short TBAs helped it weather the bond market sell-off better than most of its competitors.