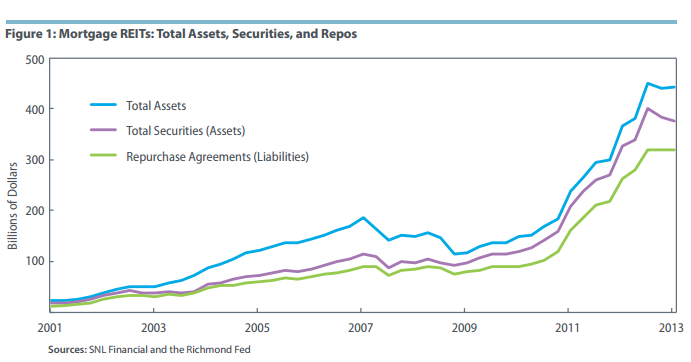 Must-know analysis: Can mortgage REITs be too big to fail?
By Brent Nyitray, CFA, MBA

Nov. 12 2013, Updated 12:31 p.m. ET
The government is concerned about the systemic risk created by mortgage REITs
The Richmond Fed recently released a short paper discussing the role that mortgage REITs have in the financial system, and whether they pose a risk to the financial system as a whole. While the paper concludes that the risk is unclear, REITs undoubtedly face increasing regulatory scrutiny in the future.
Why is the Fed worried about REITs?
Article continues below advertisement
One of the biggest lessons from the financial crisis is that leverage and lack of liquidity make a toxic cocktail. As you can see from the chart above, the mortgage REIT sector has grown considerably since the financial crisis. Aided by quantitative easing and a benign regulatory environment, its assets have quadrupled since 2009. While REITs aren't huge holders of mortgage-backed securities (they hold 4.2% of the outstanding MBS), their share has been growing.
What are the biggest risks? The biggest names in the REIT sector are Annaly (NLY) and American Capital Agency (AGNC). They bear no credit risk, but they do bear a lot of interest rate risk. They play the typical banking game of borrowing short and lending long. In other words, they borrow money at short-term interest rates and invest in assets with returns pegged to longer-term interest rates. If rates spike up, they face a double-whammy: the value of their assets falls and their cost of borrowing increases. REITs are highly leveraged, which exacerbates these interest rate effects. Finally, due to the requirement that they distribute 90% of their earnings to investors or else pay corporate taxes, they don't have much of a cushion to absorb hits to the balance sheet in this event.
What are the possible changes?
Article continues below advertisement
Mortgage REITs have a special loophole in the Investment Company Act that permits them to escape the stringent regulatory requirements provided that they're primarily involved in "purchasing or otherwise acquiring mortgages or other liens on and interest in real estate." The biggest advantage is that they have no statutory leverage limits. Annaly and American Capital have leverage well in excess of SEC limits on investment companies. In August of 2011, the SEC invited comments on a possible change to that approach, but it has taken no action. With lending still tight in the mortgage market, the government probably doesn't want to restrict credit even more.
If the SEC decided to regulate the REITs as an investment company, the leverage employed by REITs would certainly decrease. This would affect the big agency guys like Annaly and American Capital Agency the most. The agency REITs invest in government-guaranteed mortgage-backed securities, which pay a rate reflective of that guarantee. To make high returns, they have to leverage their balance sheet. Non-agency REITs like Redwood Trust (RWT), Two Harbors (TWO), or Newcastle (NCT) take credit risk as well as interest rate risk and are usually not as leveraged. They would be affected the least. If this happened, the dividends of the agency REITs would be vulnerable.