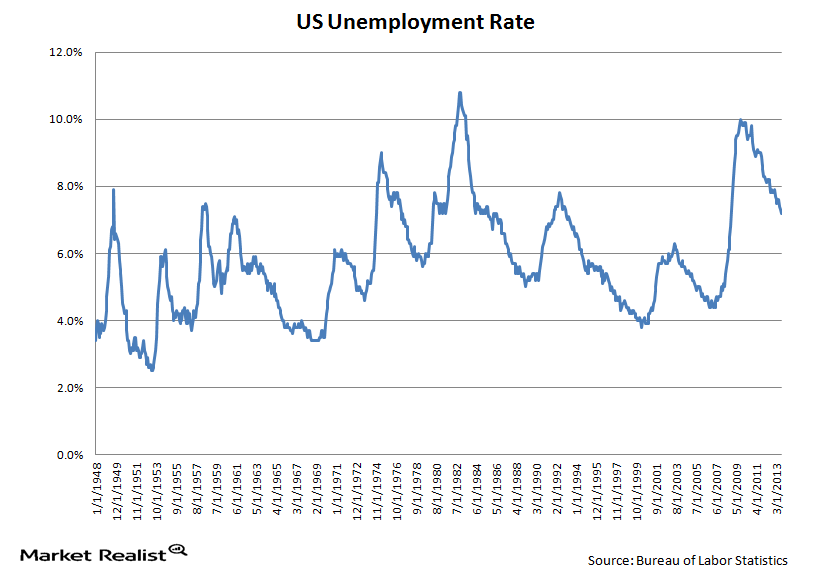 Week in review: Why a lousy jobs report is a bond rally catalyst
The ten-year bond is the basic driver of REITs and also the homebuilders
Long-term interest rates are priced off the benchmark long-term bond, which is the ten-year Treasury. These days, the ten-year bond reacts to economic data through the Federal Reserve's asset purchase program, also known as quantitative easing (or QE). As a general rule, economic data that shows weakness is bond bullish (positive). However, data that shows strength isn't necessarily bond bearish (negative).
Bonds continue post-shutdown rally
Article continues below advertisement
Government shutdowns are invariably treated like once-in-a-century calamities. But in reality, we've had periods during the late '70s and most of the '80s where they happened almost every year. Markets tend to have a little more historical perspective than media types who have to hype a story, which explains why the market basically yawned at the whole affair.
Stocks and bonds rallied on the news of a deal. The rally wasn't due to relief that the government wasn't going to default—the market couldn't have cared less if the government were open, and it realized the government had the wherewithal to make principal and interest payments so default wasn't a real possibility. The markets rallied because they knew the Fed would be on their side for a while longer. Any near-term tapering is off the table.
Tuesday's long-awaited September jobs report was the catalyst for the big jump in bonds early in the week. While the unemployment rate fell, the labor force participation rate stayed at its lows and the number of jobs created was lower than expectations.
Implications for mortgage REITs
Mortgage REITs, like Annaly (NLY) and American Capital (AGNC), are driven by interest rates. The mortgage REITs have been crushed as the ten-year bond has sold off, but they've been trying to form a bottom here. For REITs, it's all about the Fed's exit of QE (quantitative easing). The fact that it got a break from tapering sent the mortgage REIT ETF (MORT) screaming higher. Recently, St. Louis Federal Reserve Chairman James Bullard characterized the decision as a close call and laid the groundwork for a small reduction at the October meeting. Most market participants believed the change would come at the December or September meetings, not the October meeting. The shutdown and debt ceiling almost certainly make an October tapering a low probability.
Implications for homebuilders
Homebuilders, like Lennar (LEN), KB Home (KBH), and Standard Pacific (SPF), are more sensitive to general economic strength. The jobs report certainly wasn't a positive for them. We had earnings reports from PulteGroup (PHM) and Meritage (MTH) last week, both of which were good, although orders are slipping.