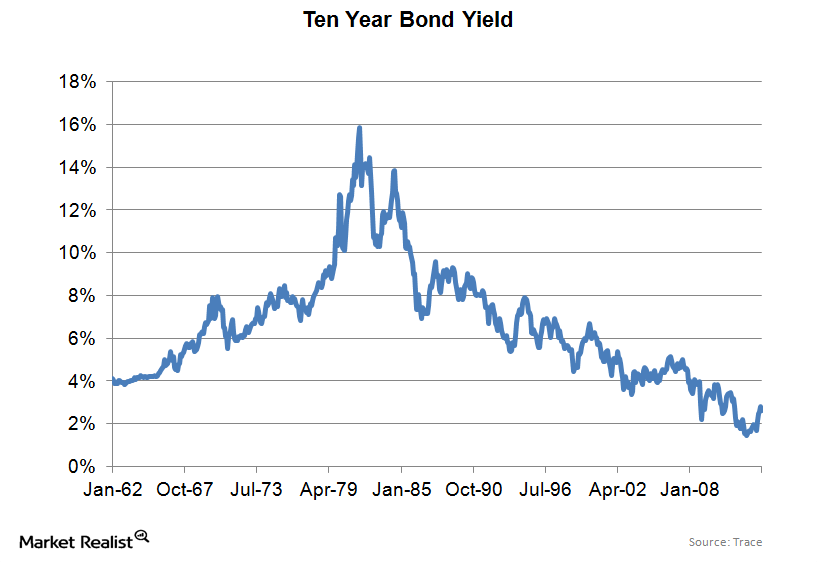 Week in review: Bonds fell slightly as the government shut down
By Brent Nyitray, CFA, MBA

Nov. 20 2020, Updated 2:40 p.m. ET
The ten-year bond is the basis for all mortgage pricing
Long-term interest rates are priced off the benchmark long-term bond, which is the ten-year Treasury. These days, the ten-year bond reacts to economic data through the Federal Reserve's asset purchase program, also known as quantitative easing (or QE). As a general rule, economic data that shows weakness is bond bullish (positive). However, data that shows strength isn't necessarily bond bearish (negative).
Bonds fall slightly as the government shuts down
Article continues below advertisement
Government shutdowns are invariably treated like once-in-a-century calamities. But in reality, we've had periods during the late '70s and most of the '80s where they happened almost every year. Markets tend to have a little more historical perspective than media types who have to hype a story, which explains why the market basically yawned at the whole affair.
The bond market knows that principal and interest will be paid regardless of what happens. Even if we breach the debt ceiling, the government will be able to pay interest on the debt (roughly 7% of government spending) and roll over maturing debt and still stay under the ceiling. As a practical matter, government spending has been cut by 13% due to the shutdown, which more than covers the interest and our usual annual deficit. While this isn't a long-term solution, we won't have financial Armageddon if we don't have a deal on October 17, which is when we would supposedly hit the ceiling.
So the markets are optimistic because they realize the shutdown and debt ceiling issues aren't emergencies and they know they keep the Fed on their side for a while longer—much to the chagrin of Washington types, who were hoping a violent reaction out of the markets would push their adversaries to the table.
Implications for mortgage REITs
Mortgage REITs, like Annaly (NLY) and American Capital (AGNC), are driven by interest rates. The mortgage REITs have been crushed as the ten-year bond has sold off, but they've been trying to form a bottom here. For REITs, it's all about the Fed's exit of QE (quantitative easing). The fact that it got a break from tapering sent the mortgage REIT ETF (MORT) screaming higher. Recently, St. Louis Federal Reserve Chairman James Bullard characterized the decision as a close call and laid the groundwork for a small reduction at the October meeting. Most market participants believed the change would come at the December or September meetings, not the October meeting. The shutdown and debt ceiling almost certainly make an October tapering a low probability.
Implications for homebuilders
Homebuilders, like Lennar (LEN), KB Home (KBH), and Standard Pacific (SPF), are more sensitive to general economic strength. The ISM services and Chicago Purchasing managers indices were better than expected. The ADP report was disappointing, and due to the shutdown, we didn't get the jobs report on schedule.