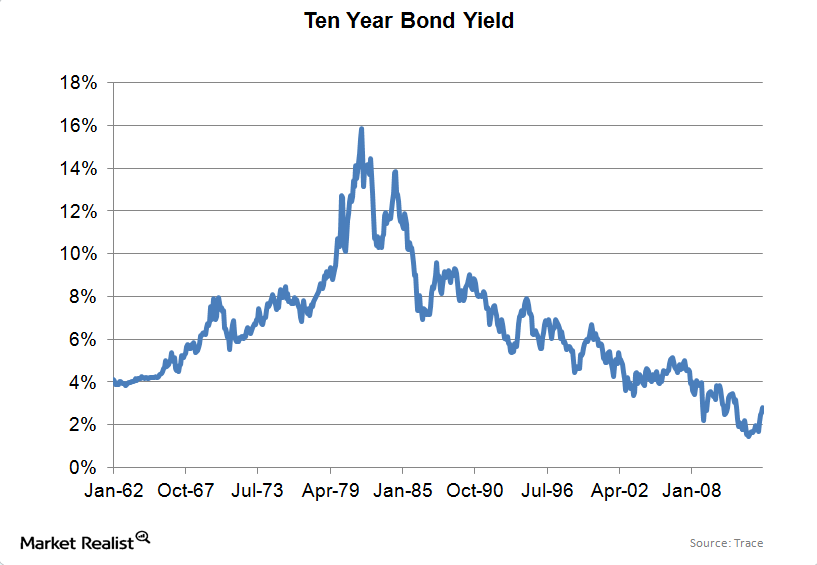 Recommendation: how to play increasing interest rates for Mortgage REITs
Interest Rates are going up. Now what?
It is hard to be a mortgage REIT investor right now. The secular bond bull market that began in 1981 – 1982 recession has ended. The wind at the back of REIT investors, quantitative easing, which has put a bid under most of the stuff that mortgage REITs own, is going away. At this stage of the game, if you are a REIT investor, you want to be playing defense right now. Avoid the highly levered REITs, like American Capital Agency (AGNC) and those with heavy exposure to long-duration MBS, like Annaly (NLY). Even some of the adjustable-rate REITs like MFA Financial (MFA) and Capstead (CMO) aren't immune. Annaly and American Capital are two names have heavy exposure to rising rates, especially American Capital because it it fits neatly in both categories – (a) it is highly levered, and (b) it holds a lot of MBS that have the 30 year fixed rate mortgage as their assets.
What names can work in this environment
Article continues below advertisement
If you look at the chart above, it gives you an idea of how long interest rate cycles can be. Once the trend turns, it may stay that way for a generation. In other words, you don't want to fight that trend. There are financial names that do perform in this environment, and can benefit from two secular trends – (a) the increase in interest rates and (b) the turn-around in the mortgage origination business.
Introduction to Nationstar (NSM) and mortgage servicing rights
Nationstar is a mortgage originator and holder of mortgage servicing rights. See this series for a primer on mortgage servicing rights, and how they behave. Nationstar is at a 52-week high even thought the financials have had a rough go of it. This is because Nationstar's assets of mortgage servicing rights is increasing in value as rates rise. We are seeing multiple expansion of MSRs, which is also an interesting theme – Basel III severely penalized banks for holding mortgage servicing rights, so the banks have been loath to hold them. This has depressed the price of MSRs such that they are trading around 3x cash flow (yes). Prior to the bust, MSRs traded at 5x – 7x. As the bank unloading of MSRs completes, more and more hedge funds are buying them as a trade. So there is some upside there.
Mortgage origination will come back
Originators are still downright despondent these days. The only trade that was working for them – serving the serial refinancer, has gone away. While existing home sales are on a 5 million / year clip, this is still low by historical standards, and nearly half of all sales are cash sales – in other words, no mortgage. This is a function of tight credit and low inventory due to an abundance of underwater homeowners. As home price rise, these underwater borrowers will be able to finally sell, which should bring more transactions to the market and help out the originators. Nationstar will benefit from both these trends – increases in interest rates and increases in mortgage origination.