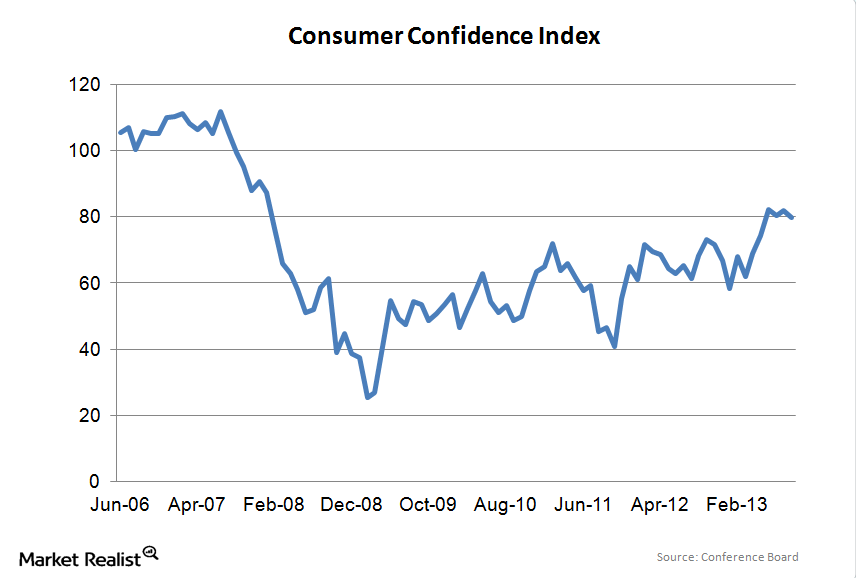 Consumer confidence ticks down as Americans fret the economy
By Brent Nyitray, CFA, MBA

Dec. 4 2020, Updated 10:53 a.m. ET
The Conference Board Consumer Confidence Index is a leading indicator for the U.S. economy
The Conference Board Consumer Confidence Index (CCI) is an important indicator of the consumer's perception of the U.S. economy. Similar to other consumer confidence measures, it asks consumers about their views on the current economic conditions and their expectations for six months out. The CCI is one of the oldest consumer surveys, originally started as a mail-in survey in 1967. It asks respondents whether the following conditions are positive, negative, or neutral: current business conditions, current employment conditions, expected future business conditions, expected future employment conditions, and expectations for family income. The index is then the average of the five questions.
Article continues below advertisement
Consumption is the major driver of the U.S. economy and accounts for 70% of GDP. Consumption has been relatively subdued since the recession began, as Americans have boosted their savings rate and spent only on essentials. The real estate bubble drove consumption in the mid '00s, as people took out cash refinances and spent the extracted home equity. This increased the cost basis for many people's homes and left people vulnerable when house prices collapsed. As a result, consumers have focused more on paying down debt than on spending.
Highlights from the report
The Conference Board Consumer Confidence Index fell to 79.7, from an upward-revised 81.8 in August. (Consumer confidence in 1985 was 100.) The present index rose to 73.2 from 70.9, which shows that so far at least, the increase in interest rates has yet to affect consumers' wallets. The Expectations Index, however, slid to 84.1 from 89. Given that 1985 is more or less par, consumer confidence is still on the weak side. The index can vary widely: in May of 2000, it was 144.7, and in February of 2009, it bottomed at 25.3. The expectations outlook may have been driven by a drop in the labor market outlook.
Article continues below advertisement
Respondents saying business conditions are "good" increased to 19.5% from 18.7%, while those who said conditions were "bad" decreased from 24.5% to 23.9%. The consumer's assessment of the labor market was predictably mixed. The number of people who thought jobs were "plentiful" increased to 11.5%, while those claiming jobs were "hard to get" fell to 32.7% from 33.3%. The final statistic is somewhat perplexing in that perceptions of the future labor market declined.
One theory that's been thrown out is that consumers are starting to pick up on the improvement in the real estate market and that's driving consumer confidence. As we've seen from the real estate indices, unless you live in San Francisco, Phoenix, Las Vegas, or a few other places, you haven't really been experiencing a major increase in home prices. However, the psychological effect of seeing improving home prices on the news may be enough to make people feel better.
Implications for mortgage REITs
The takeaway for mortgage REITs, like Annaly (NLY), American Capital (AGNC), Capstead Mortgage (CMO), Chimera (CIM), and Two Harbors (TWO), is that as the economy improves, interest rates are going up. As quantitative easing ends and the Fed ends purchases, a lot of support for mortgage REITs' assets will evaporate. While this adjustment has been painful, as long as short-term rates stay where they are (and the Fed has assured the markets that the Fed Funds rate is going nowhere until unemployment is below 6.5%), net interest margins (the difference between the return on their assets and their cost of borrowing) will rise. Cold comfort for investors who rode this wave down, but it does bode well for future profitability—provided that long-term rates find a level soon.