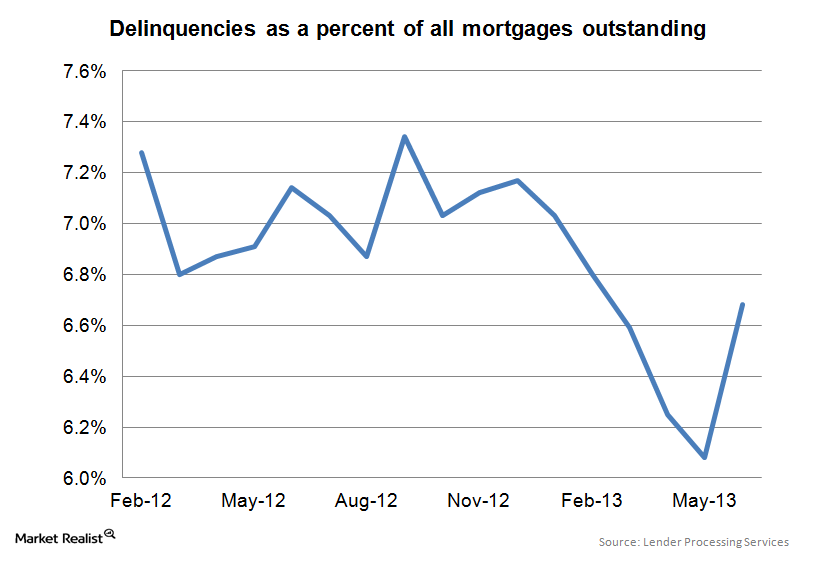 Mortgage delinquencies tick up in June: Blip or trend change?
By Brent Nyitray, CFA, MBA

Nov. 20 2020, Updated 3:26 p.m. ET
Ninety-day mortgage delinquencies rebound to 6.7% after hitting 6.1% in May
Mortgage delinquencies are falling as home prices rise and the foreclosure pipeline is clearing. While 6.7% seems low compared to the peak of 10%, the "normal" level prior to the housing bubble was in the 4%-to-5% range. This also reflects the mortgage modification push by the Obama Administration, which has used various programs (like HARP, the Home Affordable Refinance Program, and HAMP, the Home Affordable Modification Program) to allow distressed borrowers to refinance or modify their mortgages into something more affordable.
Article continues below advertisement
The foreclosure pipeline is clearing and is mainly an issue in what have been dubbed "the judicial states" (like New York and New Jersey). Non-judicial states have shorter timelines between delinquency and foreclosure. Judicial states require a judge to approve foreclosures, and they often press the borrower and lender to find a way to keep the borrower in their home.
Highlights of the report
Lender Processing Services don't have a neat explanation for why delinquencies suddenly ticked up. Over 700,000 borrowers who made their May payment missed their June payment. Cure rates also fell to a five-year low. The increase was broad-based and hit nearly every state. Lender Processing Services do note that the quarterly delinquency rates are falling, but time will tell whether this was a one-time jump or the reversal of a trend.
Declining delinquencies and the shadow inventory issue
The theme of the real estate market lately has been one of restricted supply. Many hedge funds and private equity firms raised capital in anticipation of a massive wave of distressed sales that never really occurred. The shadow inventory was estimated at 5.3 million homes at its peak in 2010. It has subsequently fallen—those properties were never dumped on the market. The banks chose to hold foreclosed properties instead of selling them at distressed prices, and the government never insisted that they get these assets off their balance sheets. The government pushed the Federal Housing Administration to modify loans as much as possible and to avoid dumping foreclosures onto the market. Instead, the government established the REO-to-rental program (REO is real-estate-owned), where portfolios of foreclosures auctioned off and buyers had to commit to not selling the properties for a specified period.
As delinquencies fall and the shadow inventory declines, buyers are realizing that a massive, distressed sale isn't going to happen. Instead, buyers are starting to aggressively bid properties. In some of the hardest-hit states, like Phoenix, prices are up over 20% year-over-year.
Declining Delinquencies mean good things for non-agency REITs
Non-agency REITs such as PennyMac (PMT), Two Harbors (TWO), or Redwood Trust (RWT) take credit risk, while agency REITs that invest in government-guaranteed, or government-supported mortgages, such as Capstead (CMO) and American Capital (AGNC), do not. While agency REITs don't take credit risk, defaults act like prepayments, which means these REITs have to reinvest at lower rates. So they aren't completely insensitive to delinquencies. Falling delinquencies are extremely important to non-agency REITs—especially those that invest in the junior tranches of securitizations. These bonds are high-risk and high-reward. This portion of the mortgage-backed securities market has rallied significantly over the past two years. Some REITs, which had been given up for dead, are up ten-fold over the past year due to the rebound in distressed MBS.