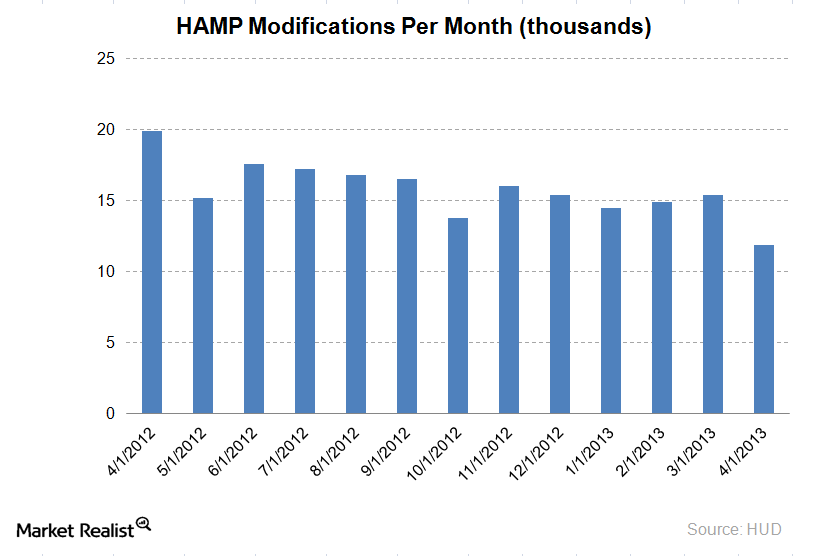 HAMP modifications fall to 11,900 in the month of April
By Brent Nyitray, CFA, MBA

Nov. 20 2020, Updated 10:39 a.m. ET
The Home Affordable Modification Program is one of President Obama's programs to provide relief to distressed home owners
The Home Affordable Modification Program lowers the monthly payments for borrowers by reducing the interest rate or extending the term of the loan. So far, the Federal Housing Finance Agency has resisted allowing principal reductions. They will, however, encourage investors and servicers in non-government mortgages to reduce principal. The intent of the program was to stabilize the housing market and prevent avoidable foreclosures.
Article continues below advertisement
To be eligible, the home owner must be employed, have obtained their mortgage prior to January 1st, 2009, must have a financial hardship, and be able to afford the reduced payment. They also included an unemployment program which reduces a borrower's payment to 31% of income or suspended altogether.
As of March, more than 1.1 million people have received a permanent modification to their mortgage, saving approximately $546 million in payments per month in aggregate.
Highlights of the April Obama Administration Housing Scorecard
Permanent HAMP modifications fell to 11,900 from 15,400 the prior month. There were 97,700 HARP refinances in the month, roughly the same as last month. Since the beginning of Obama's programs, aggregate home equity has increased almost $2 trillion.
Impact on mortgage REITs
Any mass principal forgiveness/refinancing program will mainly affect agency REITs, like American Capital (AGNC), MFA Financial (MFA),  and Hatteras (HTS). Agency REITs do not bear credit risk like the non-agency REITS Redwood Trust (RWT) and Invesco (IVR) because the loans are guaranteed by the government. That said, an absence of credit risk doesn't mean they won't take losses. Many underwater home owners have above-market interest rates on their mortgages, and are unable to refinance because lenders won't underwrite a mortgage with a loan-to-value ratio of over one, unless it is in the context of the HARP program. This means that an MBS with a 6% government guaranteed coupon rate will trade significantly above par since most of the loans cannot be refinanced. If the government pursues a mass principal reduction, those loans will be reduced to a loan-to-value (LTV) of one or below, which makes them all eligible for refinancing.
The Obama administration is considering expanding the HARP program to include late 2009 and 2010 vintages. This means that agency REITs will face a massive increase in prepayment speeds. Their higher yielding mortgage backed securities will drop in price as the market factors in higher prepayment risk. They will also face higher reinvestment risk. A mass principal writedown or major expansion of HARP would be negative for the mortgage REITs.