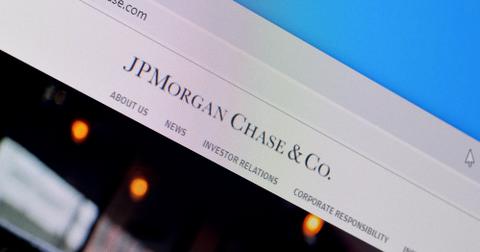 JPMorgan Chase's Q4 EPS Could See Stellar Growth
By Amit Singh

Updated
JPMorgan Chase (NYSE:JPM) is set to report its fourth-quarter earnings results before the market opens on January 14. We expect the company's revenue to improve on a YoY (year-over-year) basis, reflecting balance sheet expansion and mix. However, its revenue growth could slow on a sequential basis, reflecting margin compression due to lower interest rates.
We think higher revenue and share repurchases could continue to drive double-digit growth in JPMorgan Chase's fourth-quarter earnings.
Article continues below advertisement
Wall Street expects JPMorgan Chase to post revenue of $27.96 billion, implying a YoY rise of 4.3%. Higher revenue in the Cards and Consumer & Business Banking operations could drive its top line growth. However, lower short-term rates are likely to hurt its net interest income. Moreover, lower investment banking fees could remain a drag.
The consensus estimate reflects a sequential slowdown in the company's revenue growth rate. JPMorgan's revenue increased by 8% in the third quarter and beat Wall Street's expectation.
Analysts expect JPMorgan Chase to post adjusted EPS of $2.35 in the fourth quarter. The consensus estimate reflects YoY growth of 18.7%. Higher revenue and share repurchases are likely to support JPMorgan's bottom line in the fourth quarter.
JPMorgan Chase's 2020 earnings growth to slow
While we expect JPMorgan's fourth-quarter EPS to see stellar growth, its EPS growth could see a steep sequential slowdown in 2020. Wall Street's consensus estimate indicates that JPMorgan Chase's revenue growth could slow down amid a low-interest-rate environment. Moderation in revenue growth is likely to take a toll on its earnings growth. Further, tough YoY comparisons could remain a drag.
Analysts expect a steep sequential slowdown in JPMorgan Chase's bottom line growth. They expect JPM's bottom line to mark low-single-digit growth in 2020 and double-digit growth in 2019.
How JPM's peers could perform in the fourth quarter
We expect the net interest incomes of banks to remain low due to margin compression. However, noninterest revenue could improve. As for Citigroup (NYSE:C), We expect its fourth-quarter revenue and earnings to sustain robust growth in the fourth quarter. Growth in loans and deposits, higher noninterest revenue, and operating leverage are likely to drive its revenue and margins. Share buybacks could also drive double-digit growth in its bottom line.
Meanwhile, Bank of America (NYSE:BAC) and Wells Fargo (NYSE:WFC) are likely to register YoY decreases in revenue and earnings in the fourth quarter.