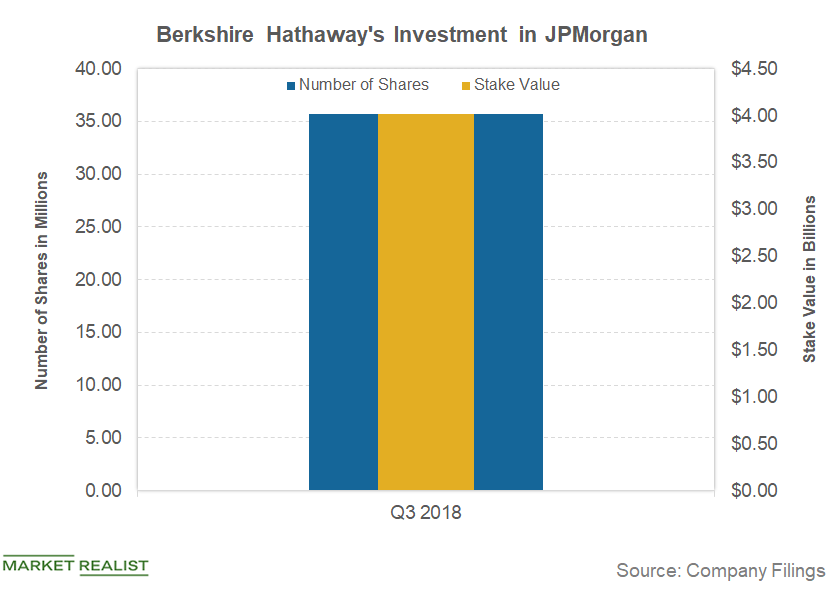 Buffett Banking Too Much on the Banking Sector with J.P. Morgan?
By Jitendra Parashar

Nov. 15 2018, Updated 10:15 a.m. ET
Buffet's Berkshire Hathaway in the banking sector
As we discussed in the last three parts of this series, renowned billionaire investor Warren Buffett's Berkshire Hathaway (BRK.A)(BRK.B) has increased its bets on the banking sector. The company added more shares (IYF) in Bank of America (BAC), U.S. Bancorp (USB), and Goldman Sachs Group (GS) to its portfolio. Now let's look at a new addition to Berkshire Hathaway's top ten holdings list that's also from the banking sector.
Article continues below advertisement
A new addition in top 10 list: J.P. Morgan
In the third quarter, Berkshire Hathaway purchased about 35.66 million shares of JPMorgan Chase (JPM). JPM entered in BRK's top ten most valuable investments list in the tenth position. In the third quarter, the value of Berkshire's investment in JPM was $4.02 billion—slightly lower than BRK's stake of $4.12 billion in both Goldman Sachs and Moody's (MCO).
Berkshire's recent 13F data suggests that Buffett's confidence in the banking sector remained strong in the third quarter.
As of November 14, J.P. Morgan had a market cap of $364.43 billion, which was higher than Goldman Sachs's $76.27 billion, Wells Fargo's (WFC) $248.26 billion, and Bank of America's $272.44 billion.
On a quarter-to-date basis, JPM has lost 4.9% while GS, WFC, and BAC have fallen 9.7%, 0.8%, and 7.6%, respectively.
Apart from the banking sector, Buffett's Berkshire Hathaway also added about 1.06 million shares of General Motors (GM) in the third quarter.