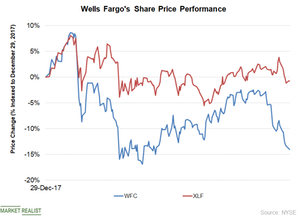 Litigation and Probes Could Impact Wells Fargo's Q3 Results
By Anirudha Bhagat

Updated
Litigation and probes
Continuous investigations and litigations are hurting Wells Fargo's (WFC) bottom-line results. Last month, the Wall Street Journal reported that the United States Department of Justice was investigating potential employee fraud in the company's Wholesale Banking division. Citing anonymous sources, the newspaper revealed that the probe related to claims that the division's staff had improperly added or altered customer information without their consent.
Prior to that, the company had claims of gender bias in its Wealth Management division. In August, the Wall Street Journal reported that 12 female executive employees alleged that qualified female staff members had been turned down for senior positions in the division.
Article continues below advertisement
YTD (year-to-date), Wells Fargo stock has significantly underperformed the Financial Select Sector SPDR ETF (XLF) as well as its top peers. WFC stock has plunged 14.1% YTD, while XLF has fallen 0.8%. The largest US bank, JPMorgan (JPM) has gained 6.6%. Bank of America (BAC) stock remained almost flat, while Citigroup (C) has lost 3.5% of its value YTD.
Tough times
Wells Fargo has been going through tough times due to the multiple allegations that have cost it in the form of client losses and deflated investor confidence. In 2016, the bank was found guilty of opening millions of fake retail banking accounts without customers' knowledge in order to meet strict sales quotas.
The company has also been accused of fraudulently signing up thousands of its customers for its products and services without their knowledge. For that, it was fined $1 billion. In August, Wells Fargo had to pay a penalty of $2.9 billion for intentionally distorting the quality of the loans it was providing to its customers.
All these issues are weighing on Wells Fargo's bottom line. Its second-quarter EPS of $0.98 fell 9% year-over-year and missed analysts' consensus estimate of $1.12.