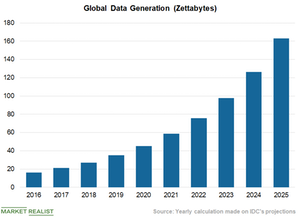 Emerging Tech Trends Driving Demand for Equinix's Data Centers
Emerging tech trends
The rapid adoption of innovations such as IoT, artificial intelligence, big data, cloud computing, and flash storage has brought massive change to the IT storage industry. Other factors contributing to this advancement include wearable devices, bring your own device (or BYOD), high-quality video, and social networking.
Increased mobile and Internet penetration, growing media and widespread implementation of ERP (enterprise resource planning), and CRM (customer relationship management) solutions have also resulted in a data explosion.
According to International Data Corporation (or IDC), the total data generated worldwide is expected to cross 163 zettabytes by 2025 from 16.3 zettabytes in 2016. One zettabyte is equivalent to 1.0 trillion gigabytes.
The robust growth in the amount of data, the complexity of data formats, and the need to scale resources at regular intervals require enterprises to turn to cloud storage vendors. This is expected to be a much less costly option for them than building infrastructure within their office premises.
Article continues below advertisement
Cloud storage
Cloud storage vendors help organizations store data and applications remotely, which can be accessed via the Internet. Users can access their files and settings from any location and using any device.
The growing adoption of cloud-based storage solutions is driving demand for cloud-dedicated data centers. According to MarketsandMarkets, the worldwide data center colocation market is expected to reach $62.3 billion by 2022 from $31.52 billion in 2017, representing a CAGR (compound annual growth rate) of 14.6%.
Given the growth prospects in the data center service space, Equinix's (EQIX) strategy of expanding its footprint on a global basis seems to be meeting these needs. With its sustained focus on acquiring data center assets such as Metronode, Itconic, and Infomart Dallas, Equinix is expected to be in the position to capitalize on this opportunity.
EQIX's peers
In the data center REIT space, Equinix isn't alone in expanding its global footprint. Among its main competitors, Digital Realty (DLR), CoreSite Realty (COR), and CyrusOne (CONE) have made significant acquisitions in the recent past.
Digital Realty bought DuPont Fabros in late 2017, CyrusOne purchased the European data center assets of Zenium last year, and CoreSite Realty completed the acquisition of U.S. Colo this April. Equinix makes up ~5.3% of the Real Estate Select Sector SPDR Fund ETF (XLRE).