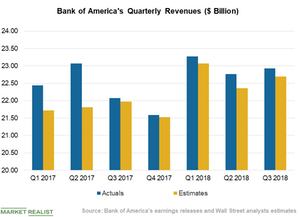 Bank of America's Q3 Revenues Surpassed Wall Street Estimates
By Anirudha Bhagat

Dec. 4 2020, Updated 10:53 a.m. ET
Third-quarter performance
Bank of America (BAC) reported third-quarter revenues of $22.8 billion, surpassing Wall Street's forecast of $22.7 billion. Its quarterly revenues rose 4.0% YoY and ~1.0% sequentially. 
The company's robust top-line performance was driven by higher interest rates, deposit growth, and loan growth. However, the decline in investment banking and trading revenues partially offset its overall top-line growth.
Bank of America's (BAC) net interest income increased $709.0 million, or 6.0% YoY (year-over-year), to $11.9 billion. This increase resulted from increased spreads and growth in loans and deposits. 
This trend also led to an improvement in Bank of America's net interest yield, which reached 2.42% in the third quarter. BAC's net interest yield reflected a year-over-year increase of six basis points and a sequential increase of four basis points.
The bank's total deposits increased by $42.0 billion, or 4.0% YoY, to ~$1.32 trillion. This growth reflected a 1.2% sequential increase. 
Article continues below advertisement
Bank of America's loan book grew just 0.3% year-over-year to $930.0 billion. The benefit from increased lending across its Consumer Banking, Wealth Management, and Commercial segments was almost entirely offset by weakness in its mortgage loans and a decline in loans to its market business customers.
Performance by segment
The Consumer Banking segment's revenues increased 7.0% YoY to $9.4 billion, driven by a 10.0% increase in net interest income. However, this increase was partially offset by a modest decline in noninterest income. 
The Global Wealth and Investment Management segment's revenues increased 4.0% YoY to $4.8 billion, supported by higher net interest income and asset management fees. This increase was partially offset by lower transactional revenues.
Revenues from Bank of America's Global Banking business declined 5.0% to $4.7 billion. Lower investment banking fees and the negative impact of tax reform on certain tax-advantaged investments more than offset the benefit of higher net interest income. 
Bank of America's Global Markets revenues slid 1.0% YoY to $3.8 billion due to investment banking fees and declining sales and trading revenues.