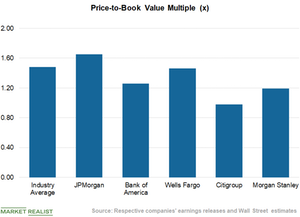 Is JPMorgan Stock Cheap or Expensive at Its Current Valuation?
By Anirudha Bhagat

Updated
Premium valuation
The PBV (price-to-book value) ratio is considered to be the best ratio to use if you want to value bank stocks. A PBV ratio of less than 1.0 indicates that a stock is undervalued and is considered a good buy.
However, finding stocks that are trading below their book values in a bullish market scenario can be a challenge. Therefore, stocks that are trading below the ratios of their peers, as well as the industry average, could be a good option in such a situation.
Article continues below advertisement
JPMorgan Chase (JPM) is currently trading at a PBV ratio of 1.65x, a considerable premium to the industry (XLF) average of ~1.48x. Moreover, the stock's valuations are higher than those of its close peers. Bank of America (BAC), Wells Fargo (WFC), Citigroup (C), and Morgan Stanley (MS) have PBV ratios of 1.26x, 1.46x, 0.98x, and 1.19x, respectively.
PE ratios
Because current market prices also reflect a stock's long-term earnings growth, the PBV ratio alone may not always be reflective of a company's performance. A company may have a low PBV ratio for other reasons, such as weak earnings, a highly leveraged balance sheet, or a highly volatile business.
Apart from this, a company that's in a mature or declining phase may also have a low PBV ratio. Investors may wish to examine other valuation indicators, such as the PE ratio.
JPMorgan is currently trading at a trailing-12-month PE ratio of 14.11x, which is lower than the industry average of 15.29x. However, compared to its peers, the stock is trading at a premium. The trailing-12-month PE ratios of Bank of America, Wells Fargo, Citigroup, and Morgan Stanley are 13.64x, 12.90x, 11.79x, and 10.79x, respectively.
Based on Wall Street's earnings estimates for the next 12 months, JPMorgan, Bank of America, Wells Fargo, Citigroup, and Morgan Stanley have forward PE ratios of 11.63x, 10.76x, 10.93x, 9.75x, and 9.37x, respectively.